Dynamic owner + old building + timely investment =
economic boon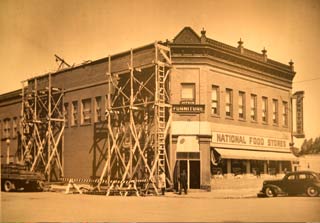 Over time, the Butler Building in downtown Aitkin lost much of it character to "modernization" and neglect. With help from Northland Foundation's Business Finance Program, the landmark is being restored.
---
Technical Advisory Committee
The following individuals provide guidance to the Northland Foundation staff and Board of Trustees in regard to business lending decisions.
William M. Arezzo
Senior VP - Private Banking Manager
National Bank of Commerce
Michael Colclough
Market President, Duluth/Superior
BMO Harris Bank
Dean Fries
Vice President
National Bank of Commerce
Brian Murphy
Chief Lending Officer
North Shore Bank of Commerce
Heather Rand
Economic Developer
State of Minnesota
Pam Sarvala
External Affairs Manager
Minnesota Energy Resources Corporation
Steve Utech
Senior VP/Senior Loan Officer
Republic Bank
Tom VanHale
CFO
Van Technologies
Term Ended 6/30/12
Steve Schneberger
Retired Banker
Aitkin, Minnesota, is a charming county seat with a resident population of about 2,100 which swells in the summertime as visitors flock to area lakes. Downtown Aitkin has a bustling yet quaint flavor with small businesses dotting the brick-building lined streets. The façade of one hulking old building had, however, faded from its former glory and had come to serve primarily for storage. That is, until one dynamic summer resident made it her mission to hone this diamond-in-the-rough back to its original luster.
Sylvia Allen lives fulltime on the East Coast but has traveled to her family cabin near Aitkin for more than 60 years. On one fateful summer visit in 2011, this accomplished business owner and philanthropist discovered the historic Butler Building was for sale. Allen jumped on the chance.
Sylvia's story features a few "clicks": When she decided to buy the building; when she came to Bremer Bank for financing of improvements; and when banker Scott Bender approached the Northland Foundation to partner on the deal.
"Bremer Bank saw this as an opportunity to boost revitalization in downtown Aitkin, and Northland Foundation provided additional support to pull this community development project together," explained Scott Bender, Vice President and Business Banking Team Lead at the Brainerd offices of Bremer Bank, a regional financial institution.
It was an atypical lending project for the Foundation, but Northland's Director of Business Finance, John Elden, became convinced by Allen's vision and business savvy. His confidence in Allen seems well-placed as she directs painstaking restoration and updates. The second floor, once the grand Aitkin Opera House, is once again an elegant event site. The brightly awning'd street level hosts a bustling coffee house and a boutique, and Allen envisions a restaurant and brew house on the lower level. She proudly shares that all the work is being done by local contractors, too.
"This is a labor of love and a way to contribute to this town, where I have been coming all my life," stated Allen. "I'm thrilled that Bremer Bank and the Northland Foundation believed in me and my dreams for the Butler Building."
Business Finance Program Summary
Business Finance Program Summary
During the past fiscal year, lending provided by the Northland Foundation's Business Finance Program helped to support the creation and retention of 243 jobs with an average remuneration of $44,600 per year.
Borrowers: 

20

Total Loans:

21

Dollar total:

$2,688,537

Jobs created/maintained:

243

Dollars Leveraged: 

$11,130,390
Borrowers:
TBP Management, Inc., Aitkin
Worldwide Machining and Welding, Superior
Van Technologies, Duluth
Marine Tech, LLC, Duluth
IHS Development, Superior
PureDriven, LLC, Two Harbors
NK-G Transportation, Inc., Nashwauk
Superior Tech, LLC, Duluth
Gemuenden Family Properties, LLC, Superior
IDS, Inc., Superior
Granite Gear, Inc., Two Harbors
Shel/Don Group, Inc., Duluth
222 Art Center Real Estate, Duluth
Arrowhead Healthcare Supply and Horizon Healthcare Supply, Inc., Duluth
Lutsen Mountains Corporation, Lutsen
KMDA, Inc., Bovey
Twin Ports Testing, Superior
Itasca County Habitat for Humanity, Grand Rapids
Peerless Auto, Duluth
Ryan's Rustic Railings, Orr