Older adults + young children + books = magic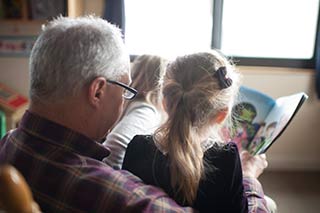 Youngsters in Proctor, McGregor, and Moose Lake really took to having grandparent-aged Reading Pals, whose calming presence established a warm and open learning environment.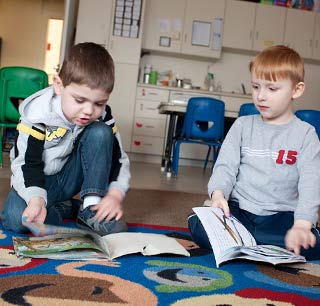 Children from age three to grade three discovered and explored the magic found in the pages of a book.
AGE to age Reading Pals unfurled last year as a Northland Foundation pilot program to help young children boost their literacy skills and confidence through the patient encouragement of "grandma and grandpa" reading mentors. It is a simple premise, but what resulted in three rural communities was pure magic.

The story begins with AGE to age: bringing generations together, a KIDS PLUS initiative that has connected adults 55+ with young people in the region to improve their rural communities. The 13 AGE to age sites imbue a fresh appreciation for older adults in communities, while the older generation is inspired to share its talents in new ways. They say timing is everything … and when KIDS PLUS received a funding opportunity from The Sheltering Arms Foundation, the pieces for Reading Pals clicked into place.
Literacy is a proven indicator of lifelong success, yet a disturbing number of American children are falling behind. Schools are stretched thin and cannot always provide the extra help some children need. Reading Pals taps the knowledge and wisdom of older adult volunteers to not only build children's reading skills but also to be caring role models.
Reading Pals was piloted in the vibrant AGE to age sites of Proctor, McGregor, and Moose Lake where more than 36 older adults regularly read with 204 children, age three to grade three, over the school year. They helped students at schools during lunchtime, after school, and at the library. They also read to children in School Readiness and child care centers. The feedback was excellent. "The kids want to participate – it's not a negative stereotype to be in this program," explained Vicki Radzak, the coordinator in Moose Lake.
The Northland Foundation is thrilled to have received a second grant from The Sheltering Arms Foundation to continue Reading Pals' magic this year. Perhaps the words of one volunteer capture it best: "Being a Reading Pal opens the door for blending the old with the new, investing my old self with what I can give away to the young … new ideas and new and hopeful places to go with a book."