Dirty Dog Manufacturing, Ely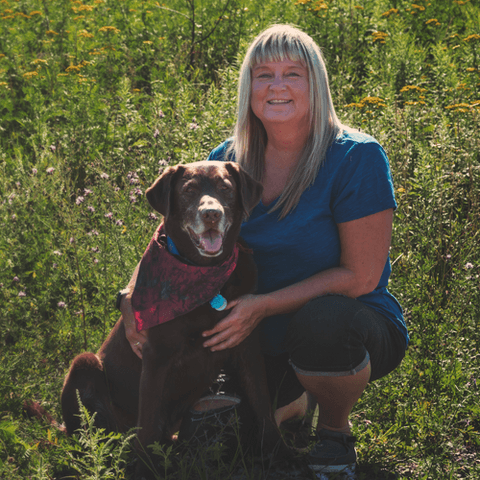 Linda Enquist Vanden-Branden has never wanted to live anywhere other than her northern Minnesota hometown. She left Ely for college but returned after graduation in the early '90s. She explained, "I didn't have a solid plan for work, but I knew I wanted to be here." This writer and lover of the outdoors found work at Hand-Done T-shirts working for then-owners Deb and John Hanson. She has never looked back.
Over the next three decades, Linda's role grew with the custom silkscreen and embroidery business which markets to resorts, parks, outfitters, camps, and schools statewide. "About anything you can put a logo or design on, we can do," she says.
When the Hansons were ready to sell two years ago, Linda seized the chance to expand the business where she's worked for nearly 30 years. Financing was a collaboration of partners including Linda, Park State Bank, the Minnesota Department of IRRR, City of Ely, and the Northland Foundation.
A name change to Dirty Dog Manufacturing (meet Frank, office dog and mascot), larger building and an addition, new equipment, and commitment to her staff – some of whom have worked there for nearly 20 years – are reaping rewards. She says her goal of hitting a million dollars in sales is within reach this year.
Linda is justifiably proud not only of sales but also of her talented team of employees and being based in the small town that she loves.
"I'm happy to be in Ely contributing to the local economy," she said, "and focus on taking care of our staff. They are our number one resource. I want to recognize Deb Hanson, too, as a mentor who led the way as a woman-owned business in a heavily male-dominated industry."
I'm happy to be in Ely contributing to the local economy.
In addition to Linda and her human staff, Frank also seems happy to be part of the Dirty Dog team, getting to live and work in beautiful Ely, MN.