Spring 2015
IN THIS ISSUE
2015 Regional Early Childhood Summit features PreK-3rd Grade family engagement and teacher effectiveness
Free trainings being provided for licensed child care providers across the region
Thrive driving systems change in infant and early childhood mental health
Early Childhood funding highlights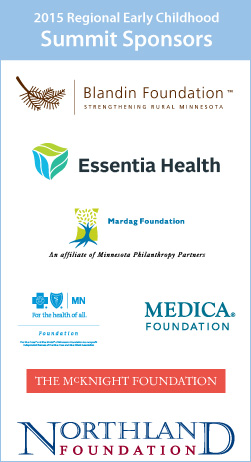 Keynote Speaker Bio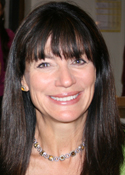 is a licensed child psychologist, author, and leader in the fields of early childhood development and early childhood mental health. She is a nationally known speaker and trainer. As a social entrepreneur, Terrie is dedicated to improving outcomes for young children and their families, particularly those residing in poverty and trauma. She is responsible for the creating the highly successful full-service child development organization, Baby's Space. Currently, Terrie is the acting Head of School for a new pre-K to 6th grade public charter school, TEAL Elementary. TEAL is founded on the idea that public education should have two primary functions: academic success and emotional wellbeing of students. Dr. Rose recently published PLAYBook, a detailed curriculum for full-day, infant, and toddler child care.
Record attendance at Early Childhood Summit proof positive of PreK-3rd Grade momentum
260 participants share energy and ideas at daylong training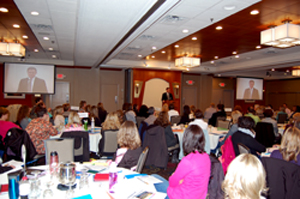 The Regional Early Childhood Summit attracts more than two dozen public, charter, and Reservation school teams each year. They include superintendents and school board members, principals, teachers, community education directors, early care and education professionals, and other special guests. Participants bring a diversity of experiences and titles, but they come together for one day with common goals: to expand their thinking and share ideas about how schools and communities can best support the region's young learners. This year, a record-breaking 260 individuals from 29 school districts attended.
"The level of involvement shows our region's dedication to further strengthening a consistent PreK-3rd Grade approach in order to create learning environments in which children can reach their full potential," stated Lynn Haglin, Northland Foundation's Vice President/KIDS PLUS Director.
Melvin Carter and Bobbi Burnham give updates from St. Paul, praise progress made in this region and statewide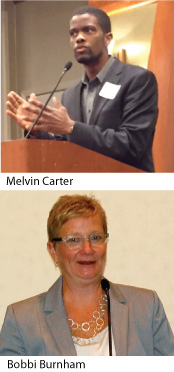 The Northland Foundation's new president of four months, Tony Sertich, opened the program with a welcome and introduced the first guest speaker, Melvin Carter.
Melvin Carter, the newly appointed Executive Director of the Minnesota Children's Cabinet, spoke of his pride in the work being done in communities and the early childhood education priorities of Governor Dayton's administration. Carter stated that when he travels outside the state, he hears great admiration for the leadership that Minnesota has shown in supporting its young learners.
Bobbie Burnham, the Director of Early Learning Services for the Minnesota Department of Education, touched upon statewide efforts in relation to early care and education and the PreK-3rd Grade approach. Burnham talked briefly about Governor Dayton's proposed mixed delivery universal preschool being debated this session. She also shared news about the P-3 Leadership Institute, highlighted a list of potential funding sources, and announced a June 2016 Summit for Success.
"This region of the state is exemplary ... we congratulate and thank you," she said.
Dr. Molly Harney reports on region's PreK-3rd Grade projects and outcomes of the past year
Over the last nine years, every Early Childhood Summit has included the opportunity for participating school districts to apply for a grant. The grants, ranging from $500 to $1,000 per applicant, depending on the year, were leveraged by grantees to help them plan and implement kindergarten transition and PreK-3rd Grade strategies. Although grant recipients have always submitted reports, the Northland Foundation wanted to dig deeper to learn more about regional outcomes in relation the 8-point Framework for Planning, Implementing, and Evaluating PreK-3rd Grade Approaches by Kristie Kauerz, Ed.D., the 2014 Summit keynote speaker.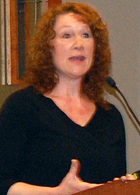 Dr. Molly Harney, an associate professor at the University of Minnesota Duluth, was asked to spend time with individuals in the 12 northeastern Minnesota communities that received preK-3rd grade grants following the 2014 Summit. At this year's Summit, Dr. Harney shared insights on her research and high points from PreK-3rd Grade Success Stories Across Northeastern Minnesota 2014-2015.
"This was an amazing opportunity to listen to individuals from across the region," said Dr. Harney, "and what I heard was the value of relationship-building between and across sectors and how important that is to enhance teacher effectiveness."
"I also heard that data is being used as a productive tool to inform your work, and that families are being embraced as partners," continued Harney. "I saw successful effforts that are giving children in this region a strong start in life."
Keynote speaker Dr. Terrie Rose talks Parent Engagement and Teacher Effectiveness: "warmth and high expectations"
With a welcoming introduction from Sonja Merrild, the Director of Grants at the Blandin Foundation (a Summit sponsor for all nine years), keynote speaker Terrie Rose, Ph.D. took the podium.
Dr. Rose's years of leadership in early childhood development and family engagement now extends to elementary school-aged children, as she prepares to help launch a K-6 public charter school in Minneapolis. It was ideal timing to invite her to address PreK-3rd Grade school district teams about family engagement and teacher effectiveness.
The thread woven throughout Dr. Rose's presentation was a message of "warmth with high expectations". Warmth equates to empathy—listening, valuing, and understanding in order to meet children, and parents, where they are at. High expectations equate to instilling confidence, giving encouragement, and supporting children to meet challenges and solve problems. She pointed out that the best math students are not necessarily born mathematical geniuses but simply are children who believe in their ability to figure things out and who receive positive reinforcement from peers and adults.
Video clips powerfully illustrated to the audience babies and older children who had clearly benefitted from warmth and high expectations from the adults in their lives. They are, said Dr. Rose, the sort of children who exhibit confidence and resilience in the classroom that is the stuff teachers dream about. She also gave examples of behaviors that result when children have not consistently experienced warmth and high expectations and the best ways for teachers and administrators to respond.
Dr. Rose pointed out the harsh reality that children may or may not get warmth and high expectations at home; their parents may not have ever experienced it, either. She provided strategies and examples to Summit participants to build bridges with students, parents, and each other that strengthen confidence, mutual trust, and resiliency, cornerstones to school and lifelong success.
Teamwork time: district teams reflect back and plan ahead to PreK-3rd Grade efforts, grants offered to participants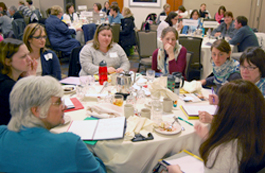 With some worksheets to guide conversation, team members shared some time at the end of the Summit to discuss what their schools and communities have accomplished to strengthen their PreK-3rd Grade approaches and plan for their next steps.
District teams who attended the Summit also were invited to apply for Northland Foundation funding, up to $1,000 per team, to help advance their PreK-3rd Grade efforts. The PreK-3rd Grade Team Grant application deadline is May 31, 2015. Teams unable to accommodate this deadline should call the Northland Foundation.

Parent Aware Pathways Fast Facts
Parent Aware Pathways offering free trainings
Array of training sessions being held around the region, all free for licensed child care providers
In October 2013, the Northland Foundation began a three-year initiative to help increase the number of Parent Aware rated child care providers serving families in the region. Parent Aware Pathways offers information, incentives, and supports to licensed child care providers.
Among the incentives is a series of training opportunities open to all licensed providers in Aitkin, Carlton, Cook, Itasca, Koochiching, Lake, or St. Louis Counties. Please register in advance by calling the Northland Foundation. You will be asked for your name, address, phone, email, and Develop number. See the EVENTS page of the Northland Foundation website or call (218) 723-4040.

Free Trainings
Behavior Guidance - Saturday, May 30
8:30 a.m. registration, 9 a.m.-1:30 p.m. training
Two Harbors High School (Community Room), Two Harbors
Trainer: Marcia Schlattman
TS Assessment Gold - June 6 and 13 (must attend both days)
8 a.m. registration, 8:30 a.m.-3:00 p.m. training
Holiday Inn Downtown, Lyric Room - Duluth
Trainer: Sue Heisler
This is a product-based training for providers who own or intend to purchase TS Assessment Gold to learn how to use this product.


Upcoming Thrive Meetings
Thrive engages a broad mix of people whose work involves young children and families: social workers, early childhood specialists, pediatricians, psychologists, public health professionals, and others. Anyone who is interested in attending a meeting or training is welcome.
Holiday Inn & Suites Downtown Duluth
(Great Lakes Ballroom, Lower Level)
200 W. 1st Street, Duluth
Thrive is thriving, creating systems change
It seems difficult to believe that, not so long ago, no-one thought babies and toddlers had such a thing as "mental health". In recent years, research on early childhood development, ACEs (adverse childhood experiences), and advances in understanding the human brain has forever changed those old beliefs.
In 2007, in partnership with funders and the other five Minnesota Initiative Foundations around the state, Thrive was introduced as a pilot program. Its goals were to increase awareness about the social and emotional needs of children birth to five and find ways to strengthen the supports and services available to families in Greater Minnesota. Seven years later, Thrive is thriving in northeastern Minnesota.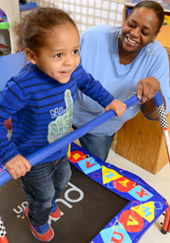 The Duluth-Proctor-Hermantown Thrive action team has grown to include over 250 participants and includes members from throughout the region who share in the learning opportunities and bring ideas back to their community. Thanks to ongoing funding support from Essentia Health, Thrive is moving forward.
"This initiative has resulted in exceptional trainings, new collaborations, and a stronger, better-connected network of resources in our region," said Lynn Haglin, Vice President/KIDS PLUS Director at the Northland Foundation.
"It is a catalyst to change systems and ensure that our communities understand and nurture the social and emotional health of young children," she added.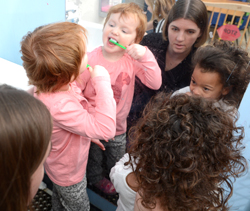 Early Childhood Funding Highlights
Medica Foundation
The Medica Foundation is continuing its partnership with the Northland Foundation with a $5,000 Core Mission Support grant to help maintain the critical work of the Thrive and Early Childhood Initiatives, which focus on improving the health and wellbeing of children birth to age eight.

Resources from the Medica Foundation will provide funding for training and professional development opportunities aimed at strengthening local capacity for meeting the social and emotional needs of the region's young children and their families.
"Our regional coalitions have terrific energy and impact in their rural communities, and we greatly appreciate Medica Foundation's support to help sustain those efforts," said Lynn Haglin, Vice President/KIDS PLUS Director.
Delta Dental of Minnesota
All too often, young children are not familiar with good oral health practices and may not have access to dental care. Barriers to rural and low-income families create health care disparities that not only impact children's health but also school attendance and learning.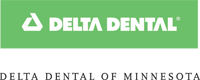 "Research tells us that oral care is critical to good physical health and development," stated Lynn Haglin, the Vice President/KIDS PLUS Director at the Northland Foundation, "and with the help of Delta Dental, our rural communities are spreading this vital message."
Thanks to a $20,000 grant from Delta Dental of Minnesota, the Early Childhood Initiative coalitions in northeastern Minnesota are addressing this important aspect of healthy development. The grant is supporting oral health and nutrition "play-n-learn" sessions with parents and early care and education providers, as well as information-gathering about the oral health needs of young children in rural areas.