Spring 2016
IN THIS ISSUE
2016 Early Childhood Summit brings together array of professionals from 23 districts
Parent Aware Pathways engaging more child care providers with trainings across the region
Duluth-Proctor-Hermantown Thrive receives new funding, undertakes action planning
Funding partners are key to Early Childhood Coalition work in the region
Child Care Providers' Appreciation & Training Seminar a lively learning opportunity
.
2016 Summit Keynote Speaker Bio
is currently an Investigator on the FirstSchool PreK-3 Initiative at the Frank Porter Graham Child Development Institute located at the University of North Carolina at Chapel Hill. He has taught first grade, pre-kindergarten, and three year olds with special needs but spent most of his teaching career in kindergarten. Dr. Holland's chief interest is in children's motivation and engagement. He has presented on these topics across the U.S. and internationally to audiences ranging from teachers and administrators to other researchers and professors.

245 participants from 23 districts expand their knowledge at 10th annual Summit
Birth through age 8 are absolutely critical years for children's brain development and set the stage for the rest of the school years and beyond. Understanding that this time frame is vital for long-term school and life success sparked the Northland Foundation to hold the first regional Early Childhood Summit a decade ago. Ten years later, it has become an annual springtime event for northeastern Minnesota school district teams to spend several hours focused solely on strategies and practices to make the most of the PreK-3rd Grade learning years. The 10th Annual Summit this April 14th drew 245 individuals from 23 districts and was an energizing day.
"The Summit enables people in our region to hear directly from national experts and also to connect with one another," stated Lynn Haglin, Northland Foundation's Vice President/KIDS PLUS Director.
"These busy people have a time out from their regular daily schedules to meet face-to-face, discuss progress, offer new ideas, and make plans to further coordinate their efforts in relation to young children and families," she concluded.
Melvin Carter and Mike Brown share early childhood news from the State of Minnesota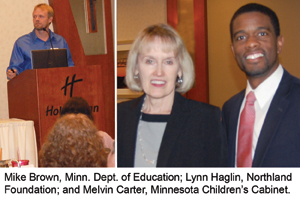 Following a welcome from Tony Sertich and Lynn Haglin of the Northland Foundation, the day's learning began with guest speakers from St. Paul.
Melvin Carter, Executive Director of the Minnesota Children's Cabinet, spoke about the commitment of Governor Dayton to make early education a high priority, not just in the Twin Cities Metro alone, but to every corner of Greater Minnesota, as well.
"We want to ensure meaningful, effective, and balanced investment in young children all over the state," said Carter regarding early childhood and PreK-3rd Grade plans and public dollars in Minnesota.
Mike Brown, the Director of Early Learning Services for the Minnesota Department of Education, presented on the importance of alliance and coherence of PreK-3rd Grade approaches throughout the state. He provided some facts and figures along with upcoming Leadership Institute and Principal Leadership Series dates.
Adam Holland, Ph.D. outlines practices to smooth transitions to help all young children on the path to success
Next up, Erin Gavin, the McKnight Foundation Program Director for Education and Early Learning, spoke briefly and introduced the Summit keynote speaker, Adam Holland, Ph.D.
Led by Dr. Holland, participants examined their current practices and explored alternative ideas to ease the major transitions that occur during the PreK-Grade 3 years. Using graphs and data from around the country, Holland prompted conversation about what these transitions are like for children, why some children flourish while others struggle, and additional strategies to promote success among all young learners.
PreK-3rd Grade grant opportunity offered to district teams
School teams, like this table from Barnum, took time at the end of the Summit to talk about their own PreK-3rd Grade approaches and ideas for next steps they can take in the months ahead. District teams who attended the Summit also were invited to apply for funding to help advance their PreK-3rd Grade efforts. The PreK-3rd Grade Team Grant application deadline is May 31, 2016. Teams unable to meet this deadline should call the Northland Foundation.

Parent Aware Pathways Fast Facts
FREE May and June Parent Aware Trainings: Register now!
Licensed family and center-based providers in the region set the bar for Parent Aware participation
In October 2013, the Northland Foundation began a three-year initiative to help increase the number of Parent Aware rated child care providers serving families in the region. Implemented in close partnership with Child Care Aware Minnesota-Northeast District, Parent Aware Pathways offers information and supports to licensed family and center-based child care providers to know and use kindergarten readiness best practices in their daily work.
What began as an initiative to reach providers in St. Louis County expanded to Aitkin, Carlton, Cook, Itasca, Lake, and Koochiching Counties with the help of funding from the Mardag Foundation, Blue Cross and Blue Shield of Minnesota Foundation, Sheltering Arms Foundation and Lloyd K. Johnson Foundation.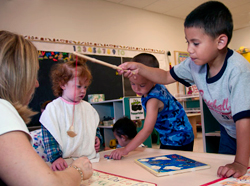 Today, approximately 300 providers representing 150 child care businesses in the seven counties of northeastern Minnesota have achieved a Parent Aware rating or signed up to begin their Parent Aware journey.
The participation rate in this region is second throughout the state; only the East Metro District of the Twin Cities has a higher rate! In fact, Aitkin, Cook, Itasca, and Koochiching are in the top ten ranking for participation among all Minnesota counties.
"Child care providers in our area care deeply about giving young children the highest quality experience and helping them be ready for kindergarten," said Lynn Haglin, Northland Foundation Vice President/KIDS PLUS Director. "Their willingness to dedicate their scarce free time and make the extra effort to get on board with Parent Aware in order to enhance their work is impressive," said Lynn Haglin.
JOIN US!
Upcoming Thrive Meetings
Thrive engages a wide mix of people whose work involves young children and families: social workers, early childhood specialists, pediatricians, psychologists, public health professionals, and others. Anyone who is interested in attending a meeting or training is welcome!
Holiday Inn & Suites Downtown Duluth
(Great Lakes Ballroom, Lower Level)
200 W. 1st Street, Duluth
Thrive carries out planning process to expand work in infant and early childhood mental health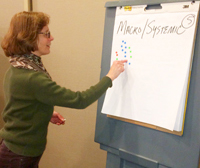 The Duluth-Proctor-Hermantown Thrive Action Team is taking action! A broad cross-section of members have focused recent meetings on establishing goals and outlining their plans for implementation in the months to come. Funding support from Essentia Health and the Southern St. Louis County Family Services Collaborative will assist various project teams to advance their work on strengthening infant and early childhood mental health.
Thrive began in 2007 as a pilot project with the other five Minnesota Initiative Foundations around the state to build awareness about the social and emotional needs of children birth to five and strengthen the supports and services available to families in Greater Minnesota. The northeastern Minnesota Thrive team has continued to intensify its efforts developing strategies to better serve young children and families in the area.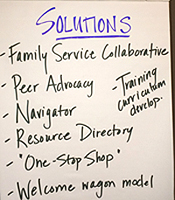 "The Thrive Strategic Planning process has served as a catalyst to develop innovative programming to help address pressing needs in the Duluth area. I'm excited to work with the other sub-committee members to explore ways to bring a national training program called the Mothers and Babies Course to our community that will provide an opportunity to teach pregnant women and new moms how to effectively respond to stress in their lives by reducing depressive symptoms and decreasing clinical depression. This translates into improved caregiver/infant relationships and improved social and emotional health for infants and children," stated Jean Larson, a Family Home Visiting Nurse Consultant and Thrive member.

(Back to Top)

Early Childhood Coalitions' Work in the Region Relies on Funding Partners
Since 2003, the Northland Foundation has helped establish 12 Early Childhood Initiative Coalitions throughout northeastern Minnesota, encompassing communities and entire counties. Northland continues to support the coalitions with ongoing technical assistance, training, and peer learning, as well as seek funding resources from generous partners to empower the coalitions in their work.
The dozen coalitions in this region have implemented hundreds of projects and programming for parents, grandparents, and care providers to promote, for example, children's oral health, kindergarten screening and readiness, social and emotional development, and nutrition at the local level. These efforts are fueled by funding and technical assistance from an array of organizations dedicated to the wellbeing of Minnesota's future generations. The Northland Foundation gratefully acknowledges the following early childhood partners.
"A willingness to collaborate, committing long-term to early care and education issues, and acting on shared priorities are powerful catalysts for change in our region and state, and these partners bring these qualities to the table on behalf of young children," said Tony Sertich, President of the Northland Foundation.
"Thanks to their support, communities across our rural region are doing great things," Sertich added.
More than 350 providers attended this year.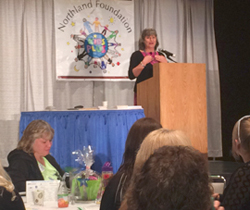 Katy Smith provided training on the importance of play and essential communication strategies.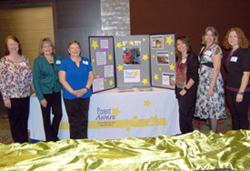 Parent Aware and Child Care Aware were on hand to answer questions and lend a hand.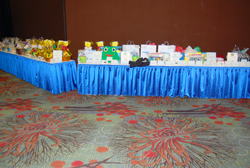 The prize drawings cap off a day of learning, networking, and fun.
Child Care Providers' Appreciation & Training
An event to celebrate and support providers region-wide
When more than 350 child care providers get together, it is guaranteed that the room will be buzzing. These important individuals, whether they work from centers, offer family-based child care, or care for the children of family, friends, or neighbors, need to have high energy for their daily work with children ages birth to five. We are glad to see them bring that energy to the annual Child Care Providers' Appreciation & Training Seminar! This year's event was held on March 12th and included presenters, Parent Aware training hours, the opportunity to create a Develop account, lunch, and dozens of prizes.
"It takes special people to nurture, guide, and teach young children in the early years when so much growth and learning happens," said Lynn Haglin, Vice President/KIDS PLUS Director. "It is our privilege to coordinate a special day for the providers who do so much for children, families, and our communities."
Child Care Aware Minnesota Northeast District and the Minnesota Department of Education inform and assist providers
Parent Aware, Minnesota's quality child care rating program, offers a number of benefits to providers who achieve quality ratings. Becoming rated requires completing Parent Aware certified training. Child Care Aware Minnesota-Northeast District and Parent Aware joined in the day to help share information about Parent Aware. They assisted providers to create a Develop account online and sign up for Parent Aware. In addition, Eric Haugee from the Minnesota Department of Human Services offered more details about Parent Aware and news from the state. He praised northeastern Minnesota for the high participation rate, which is second only to a small district in the Twin Cities Metro.
Katy Smith, parent educator and 2011 Minnesota Teacher of the Year, wows the audience with two excellent topics
The keynote presenter, Katy Smith, is Minnesota's 2011 Teacher of the Year and the first early childhood educator to receive the award. She is an ECFE professional in Winona, MN, and is a fantastic and fun speaker. She covered two topics: The Importance of Play, and Communication Strategies (having those challenging conversations). Smith's PowerPoint slides, sense of humor, and personal stories kept everyone interested, smiling, and engaged while also learning.
Following the conclusion of Katy Smith's afternoon presentation, the Northland Foundation drew names for prizes. From baskets of toys, to hotel and restaurant gift certificates, to museum passes, the prizes generate excitement at the end of the day.
Sponsors and prize donors play an important part
Sponsors and prize donors enable the Northland Foundation to host a learning opportunity that is rich in information, affordable, and rewarding for participants.
Thank you, Sponsors:

Thank you, Prize Donors:
Advantage Emblem & Screen Printing • Angela's Bella Flora • Applebee's • At Sara's Table Chester Creek Café • Blackwood's Group • Child Care Aware • Dubh Linn Irish Brew Pub • Duluth Coffee Company • Duluth Grill • Explorations • Fairfield Inn Duluth • Fannie Rose Candy Shop • Fitger's Brewhouse • Fitger's Inn • Gillette Children's Specialty Healthcare • Glensheen Historical Mansion • Grandma's Restaurants • Great Harvest Bread Company • Great Lakes Aquarium • Holiday Inn Hotel & Suites Duluth Downtown • Itasca Area Early Childhood Coalition • Lake Superior Zoo • Lakeshore Toys • La Quinta Inn & Suites • Larsmont Cottages • Lutsen Mountains • Marcus Theatres • maurices • Mellin Promotional Advertising • Minnesota Children's Museum • New London Café • Northern Waters Smokehaus • Northland Foundation • Parent Aware • Pizza Lucé • Qdoba Mexican Grill • Quad Cities Early Childhood Coalition • Radisson Hotel • Residence Inn Duluth - Marriott • Sawbill Canoe Outfitters • Sheraton Hotel • Suites Hotel at Waterfront Plaza • Super One • The Inn on Lake Superior • Trapper Pete's Steakhouse • Ulta Beauty • Valentini's Vicino Lago • Vista Fleet Harbor Cruises • Wisconsin Indianhead Technical College • Younkers Hair Salon
And, thank you, Child Care Providers, for all that you do!