Spring 2017
IN THIS ISSUE
Early Childhood Summit features regional and statewide speakers on preK-3rd grade
Parent Aware Pathways expanding access to high-quality child care in the region
Child Care Providers' Appreciation & Training Seminar draws 370 for daylong learning
Early Childhood Coalitions continue great work for young children and families
Duluth-Proctor-Hermantown Thrive taking action including new Mothers & Babies Pilot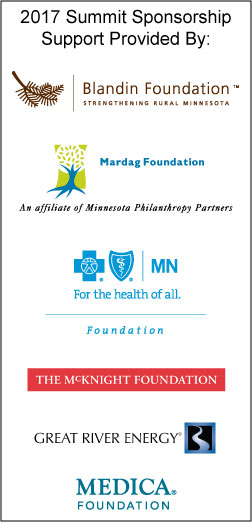 2017 Summit Presenter Bios

On-the-ground experts highlight work in preK-3rd grade with teams from 26 districts
The annual Early Childhood Summit for northeastern Minnesota schools and communities has continued to "pick up steam" since the first convening 11 years ago. Back then, kindergarten readiness was the buzzword. Today, the focus has shifted to the prekindergarten through 3rd grade continuum.
"A cohesive approach to communication and PreK to 3rd Grade alignment establishes a shared understanding of each child's story," said Lynn Haglin, Northland Foundation's Vice President/KIDS PLUS Director, "helping the adults in their lives to frame more consistent, effective strategies to help children reach their potential."
We know development does not happen according to a predetermined schedule. Many factors, including family and economic background, are at play. All of the experiences children bring into the classroom, including trauma, are contributing factors. The diversity of childhood experiences, and how we as professionals can respond to improve outcomes, was the underlying theme of the Summit.
Bobbie Burnham and Kelly Monson share State of Minnesota early childhood updates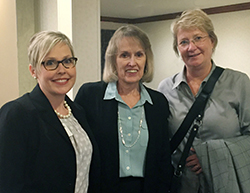 Following a welcome from Tony Sertich and Lynn Haglin of the Northland Foundation, the day began with an update from St. Paul. Bobbie Burnham and Kelly Monson traveled from the Twin Cities to speak at the Summit. Click here to access their Summit PowerPoints.
Bobbie Burnham, Director of Early Learning, Minnesota Department of Education (pictured, far right), spoke about state and federal budgets, which carry many unknowns right now. She encouraged everyone to contact their legislators to urge their support for early childhood funding legislation.
Kelly Monson, Program Manager, Minnesota Children's Cabinet (pictured, far left), spoke about three key focus areas the Governor's Cabinet is pursuing.
The importance of a multi-generational approach, because "no matter what happens during the day, at the end of the day that child goes home.

Focusing on early childhood system reform, and collecting, interpreting, and disseminating data in relation to system reform, and

Early childhood workforce issues and the shortage of child care.
Jan Reindl, Amy Starzecki, and Matt Grose discuss change and solutions for preK-3rd grade in northeastern Minnesota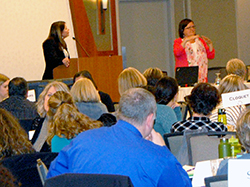 Sonja Merrild, Director of Grants at the Blandin Foundation, a Summit sponsor, introduced a trio of speakers representing northeastern Minnesota communities and schools.
Matt Grose, the Superintendent of Deer River Public Schools, was unable to attend but spoke via video, followed by in-person presentations from Amy Starzecki, Assistant Superintendent for Duluth Public Schools (pictured, left), and Jan Reindl, Executive Director of Invest Early in Itasca County (pictured, right). They offered valuable real-life perspectives on preK-3rd grade progress made, as well as, challenges faced, in their communities. Northeastern Minnesota is fortunate to have passionate leaders and innovators working on systems change.
Tracy Schreifels strengthens understanding of young children's behaviors as viewed through the lens of trauma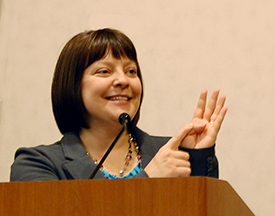 Tracy Schreifels' powerful presentation on childhood trauma left a lasting impression on Summit participants. Shreifels is a mental health specialist and consultant, and teaches at the University of Minnesota CEED. Her extensive experience, personal stories, and knowledge of how our brains and bodies cope with trauma, Shreifels urged adults to consider problematic behaviors with compassion, using a lens of trauma. Poverty, neglect, abuse, housing instability, natural disasters, and other difficult experiences, said Schreifels, leave a lasting imprint on children whose troubling behaviors offer us clues that should not be ignored. She also emphasized reflection and self-care for adults who work with children.
District teams invited to apply for preK-3rd grade funding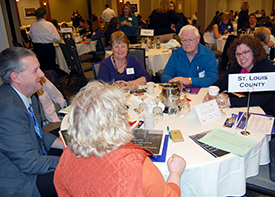 School/district teams, like this table from St. Louis County Schools, shared dedicated time at the end of the afternoon to discuss their next steps with PreK to 3rd Grade. Teams that attended the Summit are eligible to apply for a grant up to $1,000 per district. June 15 is the deadline.

Parent Aware Trainings
Parent Aware Pathways sets new goals to further increase Parent Aware engagement
Parent Aware Pathways is helping young children in our rural region be better prepared for school and life by increasing access to and availability of quality early care and education settings in the region. Building on the groundwork achieved since the launch of the Parent Aware Pathways Initiative in 2013, the Northland Foundation is helping licensed child care programs achieve and/or maintain a Parent Aware rating. Through this initiative, the Foundation is working closely with Child Care Aware Minnesota – Northeast District.
Over 100 child care programs, with more than 250 individual providers, are participating in the expansion phase. So far, more than 16 outreach and Parent Aware training sessions have been held, reaching over 600 child care providers.
With funding from the Mardag Foundation, Blue Cross and Blue Shield of Minnesota Foundation, The Sheltering Arms Foundation, and the Lloyd K. Johnson Foundation, the Northland Foundation is offering extensive outreach efforts, providing free Parent Aware trainings, technical assistance, and coaching, as well as making available a wide array of incentives to help child care providers.
The participation rate in the seven counties of northeastern Minnesota: Aitkin, Carlton, Cook, Itasca, Koochiching, Lake, and St. Louis is the highest for any Greater Minnesota region statewide.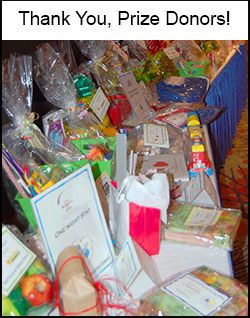 Child Care Providers' Appreciation & Training still going strong in 10th annual seminar
370 providers participate in 2017 learning opportunity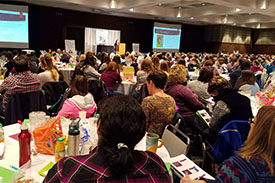 An incredible turnout of 370 child care professionals, who provide care and education for northeastern Minnesota's youngest children, participated in the Northland Foundation's 10th annual Child Care Providers' Appreciation & Training Seminar. The annual training event was held Saturday, March 11. They came from all across the region to learn, laugh, talk with fellow providers, and enjoy a day that is all about celebrating them and the work that they do.
Northland established the seminar in 2008 to offer providers unique professional development opportunities, a chance to network with peers, and as a way to say 'thank you'.
"More than 80 percent of young children live in households where all of the adults work outside the home. Child care providers are an asset not only for children and families, but also employers, communities, and the economy," said Lynn Haglin, Northland Foundation Vice President/KIDS PLUS Director.
Child Care Aware and Minnesota Department of Education support providers
Parent Aware, Minnesota's quality child care rating program, offers a number of benefits to providers who achieve quality ratings. Becoming rated requires completing Parent Aware certified training. Child Care Aware Minnesota-Northeast District and Parent Aware joined in the day to help share information about Parent Aware. They assisted providers to create a Develop account and sign up for Parent Aware.
Tracy Schreifels highlights social and emotional regulation and the power of play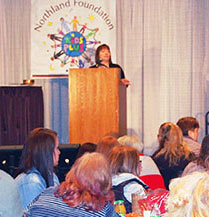 Tracy Schreifels, MS, LMFT, IMH-E (III), a mental health specialist for Reach Up, Inc. – a Head Start and Early Head Start agency in St. Cloud – presented two excellent trainings. "Strategies to Strengthen Relationship and Regulation in Early Childhood: A Trauma-informed Approach" helped providers to identify and implement specific strategies for working with young children and parents, and interpret behaviors through the lens of trauma and attachment. "Play: The Biggest Developmental Bang for the Buck" showcased play as an essential element to learning, and offered child care providers ideas to strengthen children's development through play.
All the child care providers who attended received a tote bag containing children's books and other learning resources. Over 100 prizes – toys, attraction tickets, hotel vouchers, gift cards, and more – were given away. Prizes were generously donated by businesses and community groups.

(Back to Top)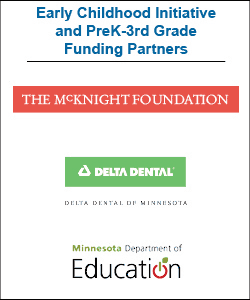 Early Childhood Coalitions are shaping communities to support our youngest children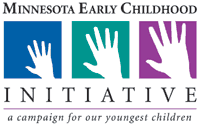 The Northland Foundation's Early Childhood Initiative coalitions in the region are continuing to help keep early care and education issues and opportunities in the forefront of their communities. During this past year, each of the coalitions have been offering education and training sessions for parents, grandparents, and child care providers to promote oral health and nutrition of young children with generous support from Delta Dental of Minnesota, The McKnight Foundation, and the Northland Foundation. In total, 32 sessions were held across the region, reaching 1,167 young children and 1,070 adults.
Coordinators from the coalitions in the region have participated in two statewide convenings hosted at The McKnight Foundation to hear updates from state early care and education leaders, gather ideas from other coalitions across the state, and provide input on statewide public policy initiatives and programs.
Finally, the coalitions have been instrumental in helping to implement local activities, such as kindergarten screening, preK-3rd grade alignment activities, early literacy, and social-emotional development to help ensure young children have a healthy life of learning, achieving, and succeeding.
Northland continues to provide support to the coalitions including technical assistance, training, peer learning, and funding with the generous support of The McKnight Foundation, Delta Dental of Minnesota, and the Minnesota Department of Education.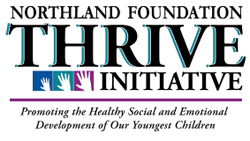 JOIN US!
Upcoming Thrive Meetings
Thrive engages a wide mix of people whose work involves young children and families: social workers, early childhood specialists, pediatricians, psychologists, public health professionals, and others. Anyone who is interested in attending a meeting or training is welcome!
Holiday Inn & Suites Downtown Duluth
(Great Lakes Ballroom, Lower Level)
200 W. 1st Street, Duluth
Thrive action team continues innovating within infant and early childhood mental health
Mothers & Babies Pilot, other projects, driving local change
In 2007, the Northland Foundation launched the Duluth-Proctor-Hermantown Thrive Initiative as part of a statewide project to better help schools and community-based organizations to support the healthy social and emotional development of young children and their families. Fast-forward 10 years: Northland continues building on partnerships and projects with multi-year funding from Essentia Health.
Thanks to a major 18-month grant from the Southern St. Louis County Family Services Collaborative, the Thrive Action Team undertook extensive planning last spring and developed new projects to enhance local infant and early childhood mental health resources. Some of the highlighted results include:
• 488 people from 60+ organizations participated in workshops on Trauma Informed Care, Family Engagement, Circle of Security, Grandparents Raising Grandchildren, and other topics.
• Five special projects are underway, including parent groups for low-income families with young children facing challenges and Foster Parent training and resources.
• The Thrive Mothers and Babies Pilot Project, which received additional support from the Miller-Dwan Foundation, aims to reduce the number of moms experiencing mood/anxiety disorders during and after pregnancy. Seven area organizations are involved in implementation: the Human Development Center, Fond du Lac Health and Human Services, St. Louis County Public Health, YWCA Child Care Center, Steve O'Neill Apartments, Carlton County Public Health, and the Duluth Public Schools Early Childhood Programs.