Minnesota Early Childhood Initiative celebrates 15 years of local, regional, statewide partnering to nurture our youngest children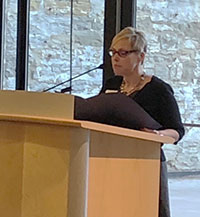 Kelly Monson, Executive Director of
the Minnesota Children's Cabinet,
delivered the Governor's Proclamation
at the 15th anniversary reception.

It was like the icing on a cake that's been baking since 2003 when Governor Mark Dayton proclaimed March 20, 2018 Minnesota Initiative Foundations' Early Childhood Day. The Proclamation recognized 15 years of collaboration and progress by the Minnesota Early Childhood Initiative on behalf of young children.
The Minnesota Early Childhood Initiative: a campaign for our youngest children was launched in 2003. The McKnight Foundation was a key catalyst for the six Minnesota Initiative Foundations to combine their strengths and apply their resources to address early childhood issues in rural Minnesota. Since then, $15.8 million has been contributed by McKnight and raised jointly by the Minnesota Initiative Foundations to advance their shared early care and education strategies. The individual Foundations have leveraged millions more to support early childhood work within their rural regions. On March 19 at the McKnight Foundation offices, Minnesota Early Childhood Initiative team members, local coordinators, and key funding and statewide partners gathered to celebrate this milestone.
Thanks to the past 15 years of shared focus, coalition-building, and advocacy, the six Minnesota Initiative Foundations have helped move the dial on early care and education in Greater Minnesota communities and among legislators in St. Paul.
Together, the Minnesota Initiative Foundations have established more than 90 early childhood coalitions in rural Minnesota since 2003. The Northland Foundation established 12 coalitions here in northeastern Minnesota, along with a strong peer learning community comprised of coordinators from all 12 sites.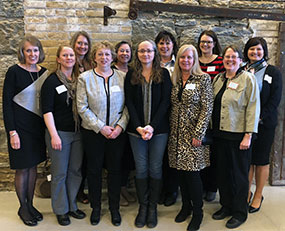 Representatives from northeastern Minnesota's early
childhood coalitions and the Northland Foundation
paused at the March celebration for a photo.
"People in our region have done truly outstanding work to give children the best possible start to a life of learning, succeeding, and achieving. We recognize and are grateful for their efforts," said Lynn Haglin, Northland Foundation Vice President/KIDS PLUS Director.
With 15 years of early childhood progress behind them, the Northland Foundation is still accelerating. Northland is committed to increasing the availability of high-quality child care, strengthening infant and early childhood mental health resources, bolstering prekindergarten through 3rd grade learning, and expanding partnerships to benefit families, communities, and economics.
---
Thank You to Early Childhood Funding Partners
The Minnesota Early Childhood Initiative and the Northland Foundation's Early Childhood Initiative in northeastern Minnesota has received significant support from these generous partners:
McKnight Foundation • Mardag Foundation • Bush Foundation • Blue Cross and Blue Shield of Minnesota Foundation • Minnesota Department of Education • Minnesota Department of Human Services • Essentia Health • The Sheltering Arms Foundation • Otto Bremer Trust • Minnesota Department of Employment & Economic Development • Southern St. Louis County Family Service Collaborative • Medica Foundation • Blandin Foundation • Miller-Dwan Foundation • Amherst H. Wilder Foundation • Jay and Rose Phillips Family Foundation of Minnesota • Robins, Kaplan, Miller & Ciresi Foundation for Children • Buuck Family Foundation • Delta Dental of Minnesota • Lloyd K. Johnson Foundation • Great River Energy • CenturyLink • Minnesota Community Foundation