Nurturing the Northland Bridges to Resilience conference joins area professionals in mitigating the effects of trauma in children
There are 10 types of childhood trauma measured in the Adverse Childhood Experiences, or ACE Study: physical, verbal, and sexual abuse, physical and emotional neglect, substance abuse or domestic violence, incarceration or mental illness of a family member, and losing a parent by divorce, death, or abandonment.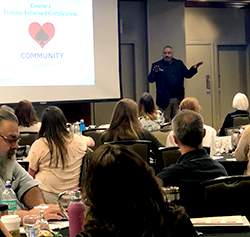 Rick Griffin (standing) presented a three-part
trauma certification training to an eager and
engaged audience of 190 conference-goers.
There are many other types of trauma besides those measured by the ACE Study: racism and generational trauma, bullying, homelessness, accidents or illness, involvement with the foster care system, and more. The number of experiences and their severity and duration are linked to disease, depression, substance abuse, and other negative impacts. Research shows that toxic stress over time changes children's developing brains. The key to reducing the impacts of trauma is through resilience, and resilience can be built in the presence of trauma-safe supports.
"We were thrilled to be approached by Amanda Lindquist of the Fostering Futures group in Superior to help organize two full days dedicated to this work." -Lynn Haglin, Northland Foundation
The desire to support children to build resilience inspired Adverse Childhood Experiences: Bridges to Resilience a.k.a. the Nurturing the Northland Conference, held on June 12th-13th in Duluth. The event was a collaboration between the Northland Foundation and Fostering Futures of Superior.
The conference convened nearly 200 professionals working in education; Tribal, county, and nonprofit human services; medical and mental health; law enforcement, and other professions that work closely with children and families. Its goal was not only to impart a deeper understanding of ACEs but also provide solid, evidence-based strategies to reduce the effects of trauma. An impressive group of keynote presenters included:
Molly Harney, Ph.D., Associate Professor at the University of Minnesota Duluth and recognized expert on early brain development, Dr. Harney gave the opening keynote on day one, as well as co-presented a breakout session on day two.

Rick Griffin, M.Ed., Executive Director and a founding member of Jubilee Leadership Academy, a trauma-informed school in the state of Washington, presented a three-part Trauma-Informed Certification training on day one.

Anne Gearity, Ph.D., mental health practitioner and clinical faculty member at the University of Minnesota who developed an innovative intervention for very at-risk young children gave the keynote on day two and led a breakout session.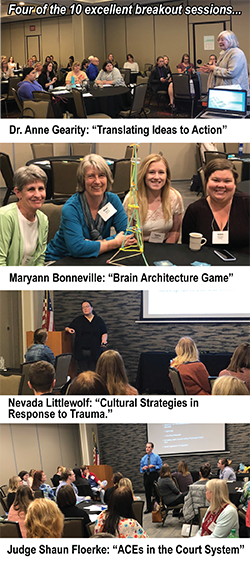 In addition to the keynotes, attendees chose three breakout sessions from a slate of 10, such as, "Building Emotion Regulation and Distress Tolerance Skills in Young Children through DBT and Mindfulness" and "Circle of Security Parenting in the Classroom: A Trauma Informed Approach". The breakouts dug deeper into applying a trauma-safe lens and best practices.
We gratefully acknowledge the breakout presenters for volunteering their time and sharing their knowledge and experience: Stacey Achterhoff, Maryann Bonneville, Dr. ElizaBeth Carver, Judge Shaun Floerke, Lynn Henderson, Amanda Lindquist, LeAnn Littlewolf, Aleesa Newman, Deidre Quinlan, and Dr. Heather Winesett.
The conference concluded with group conversation and feedback-gathering during a world café debrief facilitated by Dr. Molly Harney.
---
Recognizing our generous conference sponsors
The Nurturing the Northland Conference received essential funding support from the following organizations and businesses:

Miller-Dwan Foundation • Fostering Futures, Superior • Southern St. Louis County Family Service Collaborative • Lloyd K. Johnson Foundation • Lake Superior Community Health Center • Harbortown Rotary • UnitedHealthcare • Superior Impact Nutrition • Texas Roadhouse, Duluth