Working to increase availability of and access to high-quality child care in our region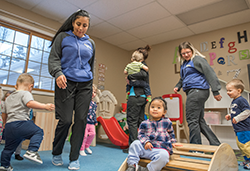 Northeastern Minnesota has a critical shortage
of child care openings.


Media coverage of the shortage of child care has been heavy in recent months. When the supply of openings is not adequate to meet needs, families pay the price but also employers and communities as a whole. The Northland Foundation is not only helping to draw attention to the problem but is also seeking out resources and strategies to help communities address the issue.
An October 2016 report by the nonprofit Center for Rural Policy and Development showed a shortfall of over 4,000 child care slots in the 7-county region. Not only that, but the number of licensed family providers has been decreasing steadily for years.
"The research showed that costs to rectify the shortage are not exorbitant, but the issue is more complex than that. Resources and opportunities differ by community. A child care model that might work in Moose Lake may be different than the solution in Ely." -Tony Sertich, President, Northland Foundation
In 2018, the Northland Foundation and other partners funded research to help quantify the Economic Impacts of the Child Care Shortage in Northeastern Minnesota in terms of lost productivity for employers, lost income for families, and lost tax revenues, as well as to estimate what it might cost to create enough child care slots to meet the need. The report also offered some ideas for how communities might approach child care financing and different business models.
Northland is approaching the challenges of child care quality and availability for families and communities in several ways:
Advocating for public sector support to address the crisis. Bills recently passed by the state legislature will enable Northland to apply for funds to pass through as grant awards for child care start-ups or expansions. A second pool of state funding will help provide community coalition-building to identify and move forward with local child care solutions.
Continuing outreach, free trainings, and incentives for providers and people thinking about starting a child care with our Parent Aware Pathways Initiative, in partnership with Child Care Aware Minnesota - Northeast District and other partners. Trainings are aligned with Minnesota's Parent Aware quality rating system.

Partnering with the Minnesota Department of Human Services to expand access to high-quality child care in the region through training, technical assistance, and funding support for child care start-ups and expansions.

Serving as an area administrator for Minnesota Early Learning Scholarships in northeastern Minnesota. With nearly $2 million from the state for scholarships, families who qualify may receive up to $7,500 per child, per year, to help pay for Parent Aware-rated child care or preschool.
"Resolving the lack of access to quality child care in our rural region will take not only money but also cooperation and creativity. If businesses, government, school districts, child care providers, parents, and other community members all come to the table, there are solutions to be found," Tony Sertich concluded.