More than 270 educators and other professionals hear from keynote presenter Dr. Clay Cook at the 2019 Early Childhood Summit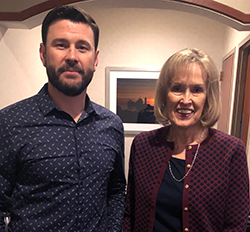 Dr. Clay Cook, pictured with Lynn Haglin, is the
John and Nancy Peyton Faculty Fellow in Child
and Adolescent Well-being at the University of
Minnesota and an Associate Professor in the
School Psychology Program. He co-founded the
University of Washington's School Mental Health
Assessment, Research, and Training Center.
An outstanding turnout of 270 people from northeastern Minnesota committed their workday to learning and networking. Teachers, administrators, school counselors, superintendents, and others representing 31 districts and schools attended as teams, along with another 30 people working in social and human services, nonprofits, and child care. Teams sat together so they could exchange ideas throughout the day.
Tony Sertich and Lynn Haglin from the Northland Foundation opened the Summit. Next, Kelly Monson, Director of the Children's Cabinet - Office of Governor Tim Walz and Lt. Governor Peggy Flanagan, and Amanda Varley, the Preschool Development Grants Manager with the Minnesota Department of Education shared state-level information and updates.
"Students don't leave their trauma or mental health challenges outside the door of the school each day. Dr. Cook provided research-based information and strategies to empower educators to help their students and improve school environments." -Lynn Haglin,
Northland Foundation
In his morning keynote, Clay Cook, Ph.D., L.P., provided a compelling training on cultivating a nurturing, responsive school environment that promotes students' social, emotional, and behavioral wellbeing—the foundation for academic and life success. During the afternoon, Dr. Cook expanded on the importance of designing personalized interventions for students with social, emotional, and behavioral difficulties (SEBD).
Cook defined "matching, mapping, monitoring, and meeting" techniques to help educators avoid ineffective one-size-fits-all interventions and, instead, provide the type of individualized supports and follow-up to truly make a difference in children's wellbeing, behavior, and learning.
Grant opportunity for Summit teams
The Summit ended with time set aside for team table conversation, and the opportunity to apply to the Northland Foundation for grants up to $1,000. The applications were due June 30th.
Recognizing generous funding partners
Thanks to the following generous partners, the 2019 Regional Early Childhood Summit is provided at no charge to participants.
Blandin Foundation • Blue Cross and Blue Shield of Minnesota Foundation • Southern St. Louis County Family Service Collaborative • Great River Energy • Medica Foundation • Lloyd K. Johnson Foundation