Annual Child Care Provider Appreciation & Training Seminar delivers two Parent Aware certified trainings
More than 300 child care professionals who offer care and education to northeastern Minnesota's youngest children gathered at the Duluth Entertainment Convention Center in March. The 12th annual Child Care Provider Appreciation & Training Seminar drew providers from the seven-county region for fun, learning, networking, and thanks.
"The people who work in child care centers, licensed family child care, preschools, and other settings do an amazing job and deserve our respect, support, and encouragement," said Lynn Haglin, Vice President/KIDS PLUS Director at the Northland Foundation.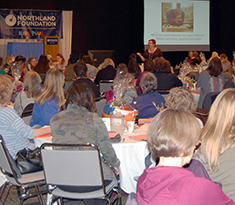 Kristen Wheeler Highland provided morning
and afternoon trainings to 290 providers.

Kristen Wheeler Highland led both the morning and afternoon trainings. She is an Early Childhood Professional Development Specialist for the Minnesota Association for the Education of Young Children and the Minnesota School-Age Care Alliance. She is also an RBPD Specialist with Child Care Aware and coaches, mentors, consults with, and advises child care providers statewide.
Highland's morning session, "Creating and Supporting Trauma-Sensitive Care Environments" shared ways to better support children to deal with adverse experiences and to thrive. In the afternoon, Highland led, "Tools for Your Toolbox: Strategies to Meet Challenging Behaviors" that included instructions for making picture schedules and other fun tools providers can use in their work.
All the participants received children's books and other resources. Prize drawings provided lucky winners with games, toys, gift cards, and more, donated by businesses and community groups.

Providers entered to win dozens of prizes donated by the community!
Watch for more information next January about the upcoming 2020 Child Care Providers Appreciation and Training Seminar.
---
Recognizing generous sponsors and donors
The Child Care Provider Appreciation and Training Seminar is presented by the Northland Foundation but is made possible thanks to funding support from:
Mardag Foundation • Blue Cross and Blue Shield of Minnesota Foundation • The Sheltering Arms Foundation • Medica Foundation • Great River Energy • Professional Providers of Duluth • Child Care Aware of Minnesota - Northeast District
Thank you, also, to the businesses and organizations that donated prizes. Your generosity is deeply appreciated.