200 Nonprofit Leaders Gather to Glean Economic Insights and Tips for Managing in Tough Times
Is the glass half empty or half full? When it comes to the floundering economy and funding support for nonprofit organizations, there is great concern about the contents of that glass. What everyone appears to agree upon, though, is that the next one to two years will be an intense time for nonprofits and foundations, and leadership must rise to the challenge to ensure survival while striving to meet growing human service needs in the region.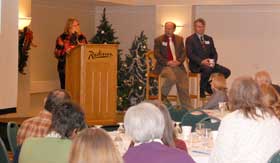 Kathy Keeley moderates a Q&A with economist
Dr. Tony Barrett and Jon Pratt of the Minnesota
Council of Nonprofits.

Nearly 200 nonprofit executive directors, staff, and board members from across Northeast Minnesota gathered in Duluth on January 21st to hear more about the economy, explore potential impacts on fund-raising, and share tools and strategies for surviving the months ahead. The Northland Foundation, with sponsorship from Minnesota Power – an ALLETE Company, hosted Charting a Course: Steering a Nonprofit Through Challenging Times.
At a time when 20 to 40 percent of many foundations' assets have disappeared, support from individual donors has generally dropped, and government grants are harder than ever to come by, nonprofits must respond with resilience and innovation. The key thrust of the convening: sharpen your pencils, zero in on mission and outcomes, be diligent with financials, and plan for change.
Sharpen your pencils, zero in on mission and outcomes, be diligent with financials, and plan for change.
Economist Tony Barrett, Ph.D., of The College of St. Scholastica opened the conversation reflecting on the status of the global, national, and regional economies. Industries such as mining, tourism, health care, and education have some reason for optimism or at the very least have fared a bit better than others. All in all, however, Barrett theorized that the economy has not hit bottom but continues to decline, and the indicators of a strong turnaround are not yet apparent.
Next up, Jon Pratt, Executive Director of the Minnesota Council of Nonprofits discussed the Funding Outlook for 2009, supported by research including an MNCN December 2008 member survey.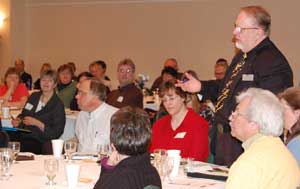 Durbin Keeney, Director of Minnesota Assistance
Council for Veterans, questions the panel.
The heart of the convening was a no-nonsense yet hope-filled keynote presentation by Kathy Keeley of The Keeley Group. Keeley outlined five key management tips for tough times: laser focus on organizational mission; investing in people (staff, board, donors, clients); analyzing revenue and expenditures; defining performance measures that are outcome-based; and designing ways of doing business differently through strategic partnerships and alliances.
Evaluation feedback confirmed that, indeed, northeastern Minnesota nonprofits are experiencing greater demand for services coupled with swelling operating expenses as foundation and corporate grants, government funding, and contributions from individuals decrease. These results mirror the findings of the Minnesota Council of Nonprofits' "Nonprofit Current Conditions Report" completed in December 2008.
Participants were appreciative of the session's timeliness, as they seek to get a firmer handle on the realities of the economy and to gain practical tools that will assist in their quest to manage effectively through this challenging time.
As a follow-up, the Northland Foundation has posted information and financial management worksheets such as a sample nonprofit chart of accounts, financial ratios, a cashflow tool, and other worksheets on our Web site. Presenters' Power Points, video of the keynote address, and additional resources are also available. These tools will become a permanent resource on our site. Watch for future information on nonprofit financial management webinars as well.