AGE to age sites to begin expanding their community projects with strong momentum and funding support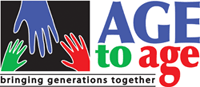 Tom and Kateisha are quite a pair. Both are energetic, full of fun, and proud of their small town of Proctor, Minnesota. In fact, they are alike in many ways, except for the decades that separate them. The friendship that has developed between Kateisha (a high school student) and Tom (a retiree), is one of many such bonds formed between older adults and young people over the past 18 months. AGE to age is indeed bringing the generations together!
"With AGE to age, I really enjoy the young people's sense of humor and their boundless energy."
~ Tom, retired,
Proctor AGE to age
In Fall 2006, the Northland Foundation received a research grant from Community Experience Partnership (CEP), an aging initiative of The Atlantic Philanthropies. CEP's goal of shifting public perception to recognize older adults as vital resources for community improvement was a perfect fit with Northland's aging, youth development, and community leadership experience. In June 2008, Northland was selected for a second round of CEP funding as one of 10 "Community Solutions" grantees nationwide, charged with mobilizing people over age 55 to craft solutions to local issues.
Community Participation
It is abundantly clear that older adults in our region have a deep concern for the younger generation, and youth have an innate desire for stronger connections with their elders. The AGE to age: bringing generations together initiative is a collaboration of the Northland Foundation, CEP and other funding partners, and members of nine northeastern Minnesota communities: Bois Forte Reservation, Chisholm, Cloquet, Floodwood, Fond du Lac Reservation, Itasca Area, McGregor, Moose Lake, and Proctor.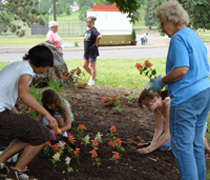 Cloquet AGE to age participants
beautify their community.
So far, 450 people ages 55 and older, along with 250 young people, have been actively involved at participating sites. The communities have developed leadership teams of youth and older adults to organize, craft an intergenerational community vision, and begin carrying out a wide range of activities – health and wellness, technology learning, recreation, sharing cultural traditions, and more. Seed grants from Northland enabled the sites to experience success with modest projects as they developed more ambitious plans for the next phase of project implementation.
The Next Phase
The newest stage of this multi-year initiative will build on the momentum as communities bring their larger scale project ideas to fruition. Each site will expand and refine their efforts with a new infusion of funding over the next three years. Just a few examples of emerging projects are listed below.
Moose Lake's HUGs (Helping Unite Generations) is focusing on increasing older adult engagement in the after-school KIDS PLUS program, as well as establishing a community recreation center that will serve people of all ages.
Bois Forte Reservation's Anishanaabayoong: Past, Present, Future connects the generations by passing on American Indian traditions such as beading and ricing, and teaching the Ojibwe language, from elders to younger band members.
Itasca Area's AGES – All Generations Energized in Stewardship has three core focus areas: Arts, Environment, and Healthy Eating/Active Living. Plans include volunteering at the food shelf, community café, and homeless programs; making pottery for the Empty Bowl event; cooking and art classes; nursing home visits; and beautification efforts.
"I am really glad our community has AGE to age. It is fun to hang out with people who are not your own age."
~ Kateisha, grade 11, Proctor AGE to age
Community Connections
Like Tom and Kateisha's friendship, which once would have seemed an unlikely one, the AGE to age sites have begun to bridge the age gap in new and unexpected ways. With all ages working together, they are breathing life into a vision of stronger, more connected communities.