AGE to age Summit highlights projects and friendships that span generations
Smiling faces and high energy abounded on June 22nd as residents of 10 communities in the region gathered for learning, reporting progress, and networking. The AGE to age Regional Summit, held in Proctor, brought together 80 site team members, Northland Foundation staff, and advisory board members.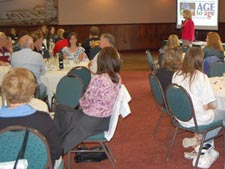 Lynn Haglin welcomed AGE to age
team members to the Summit.
In the morning, each of the 10 sites shared updates on completed activities as well as outlined some of the new projects they will undertake during the next three years of the initiative's implementation phase.
The projects are wide-ranging, touching on arts and culture, health and wellness, teaching and mentoring, volunteering, gardening, Native American traditions, and community events such as barbeques and game nights. The teams have also successfully engaged senior centers, service clubs, and other organizations to help support and expand local AGE to age efforts.
"The way people from different generations and backgrounds have pooled their energy, talents, and ideas is nothing short of inspiring," said Lynn Haglin, Vice President/KIDS PLUS Director of the Northland Foundation. "I am eager to see how their projects continue to unfold."
Following lunch, journalist and author Jay Walljasper examined the importance of establishing welcoming public spaces and how such spaces build stronger communities. Walljasper's topic was on-target; a number of teams have focused on improvements to their community centers, parks, and neighborhood gardens.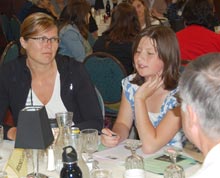 AGE to age joins youth, adults, and
older adults together to improve their
communities.
AGE to age has also nurtured friendships across the ages. For example, members of the Proctor team spoke of the strong bonds that have formed among group members and how they feel they have gained a "family away from home".
Jan Hively, a member of the Northland Foundation's AGE to age advisory board, eloquently expressed her thoughts about the wisdom of bringing the young and not-so-young together in such a positive way.
"Society under-appreciates youth and older adults, calling (people at) each end of the spectrum 'dependents'," said Hively, "but we are the bedrock of the community. This program provides the opportunity to showcase that."