Youth Leaders devote service project to Harbor House Crisis Shelters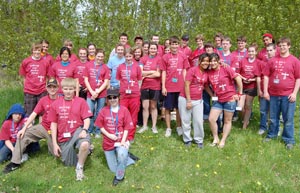 The Twin Ports Youth Leadership class proudly
wore their "Helping Out Harbor House" T-shirts.
As part of the Northland Foundation's KIDS PLUS family of programs, the Twin Ports Youth Leadership Academy's goal is to help develop young leaders who will serve their communities now and in the future. The 2009-2010 class brought together 47 ninth graders from all across Duluth and Superior to explore their leadership potential and style, enhance skills, and build friendships that bridge communities.
Each class of young leaders caps its year of learning with the planning and completion of a community service project. First, the youth review and choose from among nonprofit recipients, then plan and carry out their project of choice.
Voila! Organizing stacks of materials in the
garage was a job well done.
With the theme "Helping Out Harbor House", this year's class of 14 and 15 year olds truly put their hearts – and backs – into serving the community. Harbor House Crisis Shelters provide shelter, transitional living, and services for homeless women and families, mainly in Douglas County. The shelter provides guests not only with a safe, comfortable place to stay and time to get back on their feet but also bedding, toiletries, diapers, a free clothing store, and more.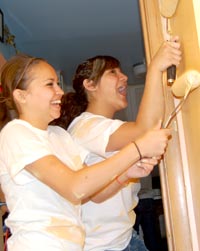 Enthusiasm made light work of
major tasks.
These young people spent many hours brainstorming, planning the project, and approaching businesses, service organizations, and individuals for support. They held a bake sale, spoke to service clubs, and gathered donations. In addition to their work at the shelter site on project day, they collected nearly $3,000 in cash and other donations. Donors were AA Roll-Off, Amys Excavating, Clyde Restaurant, City of Superior, Diocese of Superior, Jill Dalbacka, Johnson's Bakery, Lakehead Kimmes, Lions Club, Lowell Elementary, Northland Painting, Northwest Beverages, Northwest Outlet, Superior Optimist Club, The Shack Smokehouse & Grill, Valentini's Vicino Lago, and Walmart.
Starting at 9 a.m., the team mowed, dug, weeded, planted, cleaned, organized, painted, and then painted some more. They built a surround for the outdoor play area, fixed a broken swing, and added wood chips to make it safer for young children. And, they did it all with a smile.
"It was a high-energy day, thanks to the great work ethic and positive attitudes these young leaders displayed," said Lynn Haglin, Northland Foundation's Vice President/KIDS PLUS Director. "They, their families, and their communities should be very proud of their accomplishments."
Sponsorships of area businesses, individuals, and service organizations allow the Northland Foundation to offer this invaluable experience to youth at no charge. The generosity of the following donors is helping us develop the next generation of leaders in our region.