Northland Village Assisted Living ready to break ground in Hoyt Lakes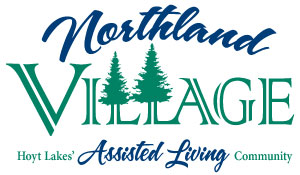 It has been a three-year journey, but Hoyt Lakes' community leaders are patient and persistent. Site preparation and construction will begin on Northland Village ~ Hoyt Lakes' Assisted Living Community within the next few weeks. The facility is tentatively scheduled to be completed in April 2011.
Hoyt Lakes Mayor Marlene Pospeck and Rick Bradford, the City Administrator (now retired), first expressed interest in Northland Foundation developing assisted living in their community after attending the grand opening at the McGregor facility in 2007. They, along with other residents of the community, worked diligently to help make Northland Village a reality in Hoyt Lakes.
This will be the third assisted living community developed by the Northland Foundation in the region, following McGregor which opened in 2007 and Buhl which opened in 2009. Like its predecessors, this building will include 20 private resident suites, shared kitchen/dining room, living, and activity areas. However, the building schematic has been modified for this project.
"We found that with all the community and family gatherings at Northland Village, more recreational space would be helpful," explained Karie Simpson, Chief Operations Officer, "so we worked with Rebecca Lewis of DSGW architects, a nationally respected expert in healthcare and gerontology design. The results are very pleasing."
"We've been extremely fortunate to connect with organizations that are equally invested in quality of life in the region."
~Tom Renier, Northland Foundation President
While the overall facility design is not dramatically different, the numerous small changes recommended by Lewis and accommodated by builder Kraus-Anderson will create an even better environment for residents, visitors, and staff.

American Bank of the North, the City of Hoyt Lakes, and Iron Range Resources all played key supporting roles in bringing the project to life.
"Financially, we would not be able to develop assisted living facilities for older adults in small, rural communities without help, and so we've been extremely fortunate to connect with other organizations that are equally invested in quality of life in the region," said Tom Renier, Northland Foundation's President.
A groundbreaking ceremony in Hoyt Lakes is being planned for early September.
For more information about Northland Village Assisted Living Communities, visit www.northlandvillage.org.