18 nonprofits out of the gate with Strengthening Communities Initiative's first cohort
And, they're off! It's not a race, but it will be an exciting process that ends in winning outcomes for northeastern Minnesota. A group of 18 nonprofits (complete list below) that are participating in the first cohort of the Strengthening Communities Initiative were selected in mid-May and are off to a strong start.
During June, the group began performing one-on-one needs assessment with consultant Kathy Keeley. The assessment helps the nonprofit take a closer look at their critical capacity-building needs and "zero in" on a work plan to achieve their stated goals. The technical assistance outlined in the work plans will be individualized to each organization and may include anything from creating a succession plan, to enhancing fund development efforts, to refining financial systems, and more.
In addition to receiving technical assistance, cohort participants also have the opportunity to apply for competitive financial awards to further enhance their capacity building.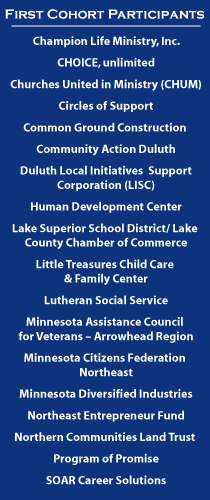 Each organization in the cohort contributes to economic recovery efforts in northeastern Minnesota. The initiative includes a special emphasis on increasing impact and sustainability of nonprofits that are helping low-income people of all ages to gain greater financial security in what continues to be a sluggish economy.
"We have tripled in size within the past five or six years, but some of our financial and administrative systems have not kept pace," said Rebecca Ellenson, executive director at SOAR Career Solutions which is among the first cohort participants. The Duluth-based nonprofit offers a range of employment readiness and career planning services.
"Through our work with Kathy Keeley and, we hope, a financial award, we'll be able to fine-tune the organization in some critical ways and improve our ability to serve clients."
The crux of funding for the initiative comes from a federal American Reinvestment and Recovery Act grant through the U.S. Department of Health and Human Services' Strengthening Communities Fund, along with Northland Foundation resources. Up to 40 nonprofits will participate in the two cohorts now through next spring. Applications for Cohort II are being accepted through August 13th.
"Times are challenging for many of the nonprofits we are working with; demand for services is higher then ever and funding is increasingly difficult to find," said Erik Torch, Northland Foundation's Grant Program Manager. "Through the Strengthening Communities Initiative, the Northland Foundation is able to provide more resources to more organizations that are helping people in our region achieve a greater level of prosperity."