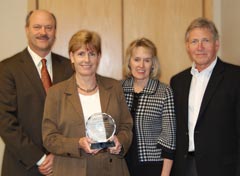 Accepting the award on behalf of Minnesota
Power are Alan Hodnik, President and
CEO of ALLETE, Inc. and Peggy Hanson,
Director of the Minnesota Power Foundation.
Pictured from the Northland Foundation are
Lynn Haglin, Vice President/KIDS PLUS
Director and Tom Renier, President.
Minnesota Power Foundation honored as outstanding partner
For nearly 20 years, Minnesota Power has been a steadfast ally to the Northland Foundation in serving the children, families, businesses, and communities of the Arrowhead Region. On November 11th, Northland's Board of Trustees and staff expressed their gratitude by presenting an award to Alan Hodnik, CEO of ALLETE, Inc. and President of the Minnesota Power Foundation, and to Peggy Hanson, the Foundation's Director.
This longstanding partnership began in 1991, when Minnesota Power provided funding for a Northland Foundation program called Terrific Teachers. Since then, Minnesota Power has directed support to numerous KIDS PLUS, Grant Program, and Business Finance Program activities.
"Minnesota Power's commitment to the Northland Foundation is a great example of the strong impact that long-term collaboration can have, and we appreciate their confidence in us to be wise stewards of their resources," stated Tom Renier, who has been President of the Northland Foundation since its inception in 1986.
In all, Minnesota Power has invested more than three quarters of a million dollars to support the work of the Northland Foundation.
In 1992, Minnesota Power provided seed capital to the Arrowhead Technology Fund, a program of the Business Finance Program and supported the KIDS PLUS Conference annually from 1992 through 2005.
Beginning in 1993, Minnesota Power worked with the Northland Foundation to support Business Education Grants that helped young people develop skills and make positive after-school connections. The company was a pivotal contributor to Northland's five-year endowment campaign and has provided sponsorship support to many regional convenings and educational events over the years.
Notably this longstanding corporate and philanthropic partner played a valuable part in helping the KIDS PLUS Youth In Philanthropy Program to launch in 2000 and has supported the unique, youth-led grantmaking program every year since.
"The longer a partnership has to develop, the better chance you have of developing sustained success," explained Peggy Hanson, Director of the Minnesota Power Foundation. "I think the relationship between our two foundations has benefitted both. Minnesota Power is a little surprised but very honored to receive this award."
In all, Minnesota Power has generously invested more than three quarters of a million dollars in Northland Foundation's efforts to strengthen and sustain northeastern Minnesota.
"With many of our corporation's contributions to the Northland Foundation centered on children and education, we see the value of our assistance growing as young people who've been helped remain in our region and go to work improving it," said Alan Hodnik, the President and CEO of Minnesota Power's parent company, ALLETE. "We're enthusiastic about the successes of the Northland Foundation and look forward to continuing our ongoing relationship."