Gratitude, optimism, and milestone moments to mark silver anniversary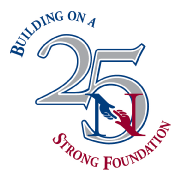 The Northland Foundation was founded on the premise that people who live and work in our region are the ones who are most qualified to seek solutions to local challenges. It is a belief that has stood the test of time. For a quarter century the Northland Foundation has been fortunate to connect with a myriad of exceptional partners.
Dedicated board trustees, supportive funders, program participants, volunteers, donors, nonprofits, and businesses and community members pulling together are the real stars of our story. We celebrate our first 25 years of progress indebted to the many friends and allies who have supported us with time, talent, and treasure.
"This is not a time to pull inward but rather a time to invest and give boldly in our communities."
~Tom Reiner
It was in the wake of a different recession, in the early 1980s, that the Northland Foundation was established. Although times are once again challenging, northeastern Minnesota has a more diversified economy and stronger social supports in place making this region better equipped for recovery than 25 years ago. It will, however, take ingenuity, persistence, and financial resources – most of which will need to come from private sector sources – for communities to bounce back from the most recent recession.
"This is not a time to pull inward but rather a time to invest and give boldly in our communities," said Tom Reiner, founding President of the Northland Foundation. "If the past 25 years is any indication, we know people will generously step forward and contribute. There is every reason to be optimistic," he concluded.
The Northland Foundation has spent a quarter century investing in northeastern Minnesota through our Grant Program, Business Finance Program, KIDS PLUS Program, and Assisted Living Initiative. This issues of the Notes and next three will look back at some of our major milestones, with thanks to those who have helped along the way.
Here's to the next 25 years of building on a strong foundation... together.
Milestone Moment: Business Finance 1988-2011
Prior to founding the Northland Foundation and other Initiative Foundations, The McKnight Foundation undertook an exploratory process with participants from around the state. Their objective was to learn more about rural Minnesota's pressing needs and what McKnight's most effective role might be to serve those needs.
Out of this process emerged a passionate (and, to some, surprising) call for increased economic development and job creation efforts for Greater Minnesota. In addition to a safety net of human and social services, what struggling families needed were secure, decent-paying jobs and benefits.
With McKnight's assistance, the Northland Foundation and fellow Initiative Foundations gained an ability unique among foundations nationwide: a tax designation that allowed for direct loans to businesses. Business financing to spur job creation, encourage entrepreneurship, and retain local enterprise in rural communities was then and continues to be one of our most essential mission-driven activities.
By 1988, Northland had established a revolving loan fund and originated its first loan in early 1989 to a business located in Grand Marais. Fast forward to today...the Business Finance Program has made more than $43 million in loans to 450 businesses and nonprofits, often in cooperation with other financial institutions. Collectively those loans have helped borrowers create or retain 6,500 jobs in the region.
Efforts to increase our loan capital and with it our lending capacity are constant. It is time and effort well spent, knowing that the availability of flexible financing for businesses and nonprofits has a direct hand in improving the overall quality of life in northeastern Minnesota.