Assisted Living opens in Hoyt Lakes with ribbon cutting and new residents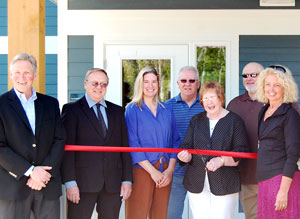 From left: Tom Renier; Robert Bartholemew, Hoyt
Lakes Chamber; Karie Simpson; City Councilor
Robert Ross; Mayor Marlene Pospeck; City Councilor
David Zins; Cindy Hansen, Northland Chair.
The Northland Foundation, dignitaries, and local residents celebrated the opening of Northland Village—Hoyt Lakes' Assisted Living Community with a June 14th ribbon-cutting. The complex is located on a breathtaking wooded lot at 421 Kennedy Memorial Drive. A bike and walking trail skirts the property, and deer and other wildlife are frequent visitors. Residents can enjoy the view through floor-to-ceiling windows in the sunroom or from a seat on the patio.
Like the Buhl and McGregor locations, Hoyt Lakes offers 20 private suites and 24-hour assistance with a high staff-to-resident ratio. Amenities include a hair salon, resident laundry, and a private, accessible bathtub room. Several residents have already moved in.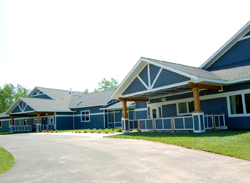 The design of Hoyt Lakes is a departure
from the sites in McGregor and Buhl both
on the outside and the interior layout.
"It's a pleasure to invite residents and staff to this brand new facility," said Karie Simpson, Chief Operating Officer for Northland Assisted Living. "We hope to give many tours and welcome more residents in the weeks to come."
Homecooked meals, activities, and an attentive staff led in Hoyt Lakes by RN/Manager Judith Ezell are some of the hallmarks of Northland's mission-driven model of care.
For more information, visit the Northland Village website. Northland Assisted Living does not discriminate between private-pay residents and those receiving Elderly Waiver financial assistance.