Annie Archambeau, Youth In
Philanthropy board chair.
Meet an inspiring young leader, Annie Archambeau
That's inspiring, not aspiring. Annie Archambeau doesn't hope to be a leader someday – she already is one. This busy high school senior has been involved in not one, but two KIDS PLUS programs, as well as many other school and community activities.
Using a wheelchair has not stopped Annie from giving generously of her time and talents. She has packed numerous accomplishments into her first 18 years, just some of which are listed below.
Recently we spoke to this dynamic young woman to learn more about her insights into leadership.
You go to school in Superior, Wisconsin, across the bridge from Duluth. Have you always lived there?
I was born and raised in Superior. Because I've lived here my whole life, I thought I already knew a lot about the area. Through the KIDS PLUS Youth Leadership Academy and the Youth In Philanthropy board, I have learned so much more about my community.
How did you get involved in Youth Leadership?
I was recommended by a former teacher, Mrs. Anderson-Petroske, who encouraged me. I loved getting to know the other students in Youth Leadership. Our service project was an activity day with the residents at the Golden Living Center. It was gratifying and fun, and it created great camaraderie within our group.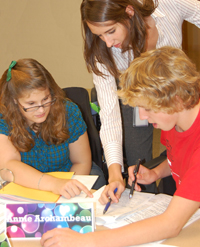 Reviewing Youth In Philanthropy
grant proposals in 2009 are, l to r,
Annie, adult representative Kelli
Millslagle, and Sam Ludwig.
You joined the KIDS PLUS Youth In Philanthropy board in 10th grade. What was that like?
It was a little intimidating at first. The students on the board conducted themselves so professionally. They didn't seem like they were only in high school. As a sophomore, I looked up to the seniors on the board who were great leaders and who really embraced me.
It was a total surprise to be nominated for vice chair after my first year. I felt lucky that my peers believed in me enough to give me the opportunity. As board chair this year, my goals are to set a good example and make new members feel welcome. The grant requests that we receive really open your eyes to community needs and creative ideas. It is amazing to see change happen and know that we helped support it.
You spoke to a big audience at the KIDS PLUS 20th anniversary event last October. Were you nervous?
I was nervous, but talking in front of my whole school for our anti-bullying campaign made me become more comfortable with public speaking. It was much scarier to speak in front of kids my own age than at the KIDS PLUS celebration!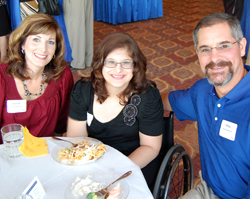 Annie with her parents, Sandy and Mike,
at the KIDS PLUS 20th Anniversary.
Do you have a hero or mentor?
My mom is my role model. She is a teacher and the most kind, loving person I know. She has been so strong for me. She and my dad have never made me think I should feel sorry for myself. Instead, they have always told me that there is nothing I can't do. Being in a wheelchair means I have some physical limitations, but my voice is my tool. We all have a voice and need to use it.
What are your plans after you graduate this spring?
I hope to attend The College of St. Scholastica next fall. After college, I want to go to law school.
Have you always viewed yourself as a leader?
Sometimes teens feel like we don't get heard or can't make an impact. One thing I have taken away from my experiences with the Northland Foundation is that young people can and do make a difference.