Back-to-School Grants help kids in need start the school year with dignity, ready to learn
Remember what a big deal the first day of school was each year when you were young? You were eager and a bit nervous. Your little hands gripped a backpack filled with new pencils, notebooks, and crayons, and off you went.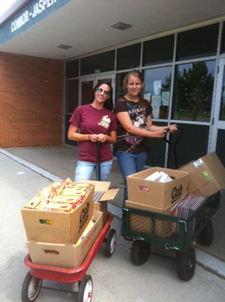 An AGE to age summer intern and youth
board member in Bovey-Coleraine help
deliver donated supplies for middle and
high school students.
Now imagine how it would feel if your family couldn't afford pencils or notebooks, least of all a backpack. The start of the school year might even be embarrassing or scary.
Thousands of children in northeastern Minnesota face this predicament each fall. That is why, for the past 12 years, the Northland Foundation has made special grants to schools in the region, grants consisting not of cash but school supplies.
"The schools we work with have the high numbers of students with free and reduced lunch," said Tom Renier, Northland Foundation President, "These are families, schools, and communities of great need."
Since 2000, $42,498 worth of supplies has been donated. Northland Foundation staff works closely with suppliers and shops around to stretch every dollar in order to get the most for the money. Northland also contacts recipient schools to see that each one receives the exact supplies they need to provide to students who would otherwise do without. Communities served include Aitkin, Bovey-Coleraine, select Duluth schools, Hill City, International Falls, McGregor, and Mountain Iron-Buhl.
"The Northland Foundation magically appears every fall like a fairy godmother with all the supplies a student needs to attend school." —Cher Obst, Principal, Piedmont Elementary
"The start of school is made so much more exciting with new pens, pencils, paper, notebooks, crayons, glue, scissors....all the things that go into a backpack and make a student feel prepared to meet the demands of the classroom," explained Cher Obst, Principal of Piedmont Elementary School which serves the Piedmont and Lincoln Park neighborhoods of Duluth.
Today most of the items ordered on behalf of each school are shipped directly to the schools. In earlier years, however, putting together orders was a whole-staff effort.
The Foundation office would close for part of a morning, and the entire staff would gather in a local parking lot with supplies stacked high. Northland employees would pick through the stacks counting out supplies destined for each school on the list, pack them in boxes, and load up vehicles for delivery.
Although the process is more streamlined today, it is just as gratifying.
"Knowing that the students on the receiving end will have one less challenge to overcome in their young lives makes the resources and effort involved more than worth it," concluded Renier.