Decades of support help sustain supportive housing, grow programming, and change lives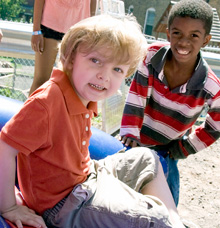 A 2010 Northland Foundation grant to
CCHC funded planning for early
childhood programming.
When this homeless young mother of three entered Center City Housing Corporation (CCHC) transitional housing, she was using narcotics almost every day.
Soon, however, she started participating in a number of program activities. She began online college courses, and got her children involved in the children's programs. She went from everyday drug use to using once or twice per week.
After eight months in the program her drug use was infrequent; she attended Celebrate Recovery support group weekly and was earning straight A's. Experiencing school success, she moved on to attend Lake Superior College with scholarship assistance. Her children have received needed mental health services as a result of the programming provided by Center City and they are all going to school on a daily basis.
"She has become a leader among her peers," said Nancy Cashman, Supportive Housing Director, of the young woman.
More than Signing a Check
Outcomes like this one are inspiring. They are also powerful evidence that Northland Foundation's support for nonprofits truly helps transform individual lives and communities.
Northland is a grantmaker, yes, but also works to be a source of information, catalyst for action, and connecting point for collaboration. The Grant Program is committed to assisting nonprofits with building organizational capacity as well as meeting shorter-term funding needs.
Center City Housing and, before it, the Women's Community Development Organization (WCDO) is a prime example.
Transitional Housing in Transition
Over a span of 30 years and with significant Northland support, WCDO developed 93 housing units for women's transitional, supportive, and long-term homeless prevention services. Due to a variety of circumstances, in 2008 WCDO was faced with closing.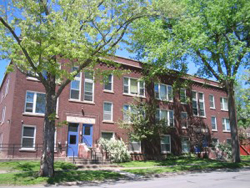 One of CCHC's transitional housing locations.
In all, the program houses up to 21 families
moving out of homelessness.
The Northland Foundation and others stepped forward to help preserve this important asset. With the creativity of WCDO's interim director and board and grant from Northland, a "work out" management team was hired to guide the transition and negotiate a solution. WCDO continued serving its clients while thoughtfully managing the process of ceasing operations. Allies such as the Greater Minnesota Housing Fund and Duluth LISC also played key roles.
Eventually the housing and services were preserved and acquired by Center City Housing.
Support and Services Make the Difference
The families and individuals within Center City Housing's transitional housing units have all experienced homelessness. Along the way, most have been touched by challenges that often accompany poverty: mental illness, domestic abuse, chemical dependency. These are families and children who, more than most, need stability, caring attention, and support.
"Since 1989, Northland has made 20 grants totaling over $335,000 to WCDO and Center City Housing – wise investments to sustain and improve critical services in our region."
—Tom Renier, President, Northland Foundation
Center City manages both permanent supportive housing as well as transitional housing units in Duluth so that clients can experience stability, connect with supportive services, and find their footing.
Three years ago, Northland awarded a planning grant to help Center City design early childhood programming to complement their existing youth program. The staff had noted the large numbers of young children living there and the lack of programming to support them and their parents.
What they developed was not just any child care. Through a connection with the Northland Foundation, Center City consulted with Duluth-Proctor-Hermantown Thrive, an infant and early childhood mental health initiative of the KIDS PLUS Program, and other experts, to develop protocols to meet the special social-emotional needs of this population.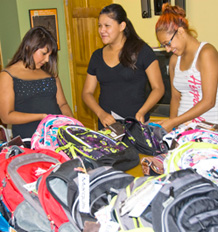 The youth program supplies backpacks
to students for back-to-school.
"Fully 75 percent of eligible children are participating in our TOTS program offered 6 times per week, and all eligible children are receiving transportation to Head Start," stated Cashman.
Families can stay in the Center City Housing program up to 24 months during which time a case manager meets with them at least once a week to help them strengthen their skills and resources to maintain permanent housing. When a family is ready to move, six months more of case management helps with the transition.

"Center City is a stellar example of how, as a foundation, establishing long-term relationships with well-managed nonprofits pays back dividends to the community," explained Tom Renier, President of the Northland Foundation.
Dividends that lead to inspiring stories of lives transformed.