BackPack Programs: helping kids "make the grade" by reducing hunger at home
Images of malnourished Third World children are sadly common in the media. What we do not often see or acknowledge are the thousands of hungry children and youth in northeastern Minnesota.
With high percentages of families living below or hovering just above the poverty line, many area children simply do not have enough nutritious food at home. Not only are they deprived of the energy their developing minds and bodies need, but the added stress of food insecurity – not knowing where their next meal will come from – makes it even tougher to focus and succeed in school. Although free and reduced price school breakfast and lunch help on weekdays, the weekends, holidays, and summer leave them going without.
According to the 2013 KIDS COUNT Data Book, a project of the Annie E. Casey Foundation, one in five U.S. children or roughly 17 million kids are food insecure. Nationwide, nonprofit organizations, funders, and volunteers have joined forces to help reduce childhood hunger during non-school hours. The Northland Foundation supports a number of "BackPack Programs" in addressing this issue in our region.
Food Banks, Schools, Youth Programs Deliver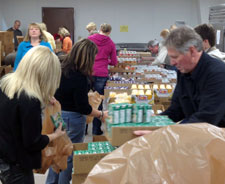 Northland Foundation staff fill bags with
nonperishable, single-serving food items
for hungry kids in Duluth-area schools.

A BackPack refers to a modest supply of nonperishable food items that is most often distributed discreetly at school or through a youth organization such as a Boys and Girls Club to children living with food insecurity. The bags might contain shelf-stable milk and juice pouches, individual servings of apple sauce, canned pasta or stew, cereal, and more. Care is taken to ensure that each item can be easily opened and eaten by a child who may not have access to a can opener or other utensils. In Duluth, food is placed inside a plastic grocery bag that kids can tuck into their backpacks to take home with them.
"Supporting BackPack programs is vital to helping our region's youth meet a basic, critical need that will help them focus on their education rather than where their next meal is coming from," said Erik Torch, Northland Foundation's Director of Grantmaking.
For each of the past five years, Northland has awarded a $5,000 grant to support the BackPack Program at North Central Food Bank, which is located in Grand Rapids but serves a four-county area. Executive Director Susan Estee said that North Central tested the program back in 2005 with 35 students at one school but has grown to serve nearly 2,000 students at 17 schools.
According to Estee, BackPack funding comes from foundations such as Northland, service organizations, corporate giving programs, Tribal Government, as well as some individual donors. Volunteers help pack the bags each month.
"Helping a child stay fed helps them focus in school so much more. They also see school as a caring place." —teacher from a participating school
Serving northern St. Louis County, and recently expanded to include Koochiching County, the United Way of Northeastern Minnesota coordinates with the food bank in Duluth to prepare BackPacks for Iron Range and International Falls schools. To date, the Northland Foundation has granted $15,000 to their efforts.
At Second Harvest Northern Lakes Food Bank, located in Duluth serving northeastern Minnesota and northwest Wisconsin, the Foundation has provided not only financial but also some human resources.
Hands-On with Hunger Reduction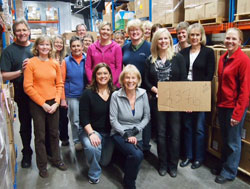 During a few hours at Second Harvest, a
team from the Northland Foundation along
withseveral other volunteers filled over 2,000
food packs.
Besides making a $5,000 grant in January 2013 to support the BackPack Program in Duluth, the Northland Foundation got hands-on by spending a day filling and boxing up food packs.
Nearly the entire staff joined together with a handful of other dedicated volunteers one day in March. It was rewarding work with the team putting together more than 2,000 bags going to hungry kids at a number of local elementary schools.
"It is humbling to realize that the dozen or so items put in each bag are a lifeline to children who might otherwise have very little to eat on weekends," stated Tom Renier, Northland Foundation President, of the volunteer experience.
If You Want to Help
Contact the following organizations if you would like to donate money and/or time to support hunger reduction efforts, including BackPack Programs serving hungry children in our region.
United Way of Northeastern Minnesota
(218) 326-4420
Second Harvest North Central Food Bank
(218) 326-4420

Second Harvest Northern Lakes Food Bank
(218) 727-5653