1,100 enthusiastic high schoolers get close-up view at careers, education
When a high school student from Silver Bay was overheard telling her friends that this event was 'legit', it provided the seal of approval that Pathway to Careers was a worthwhile endeavor, not only in the eyes of the adults but, more importantly, to the 1,100 young people in attendance. Students from two dozen schools – International Falls, McGregor, Fond du Lac Reservation Ojibwe School, Ely, Proctor, Poplar, Silver Bay, Mesabi East and more – packed the Duluth Entertainment Convention Center on October 29th.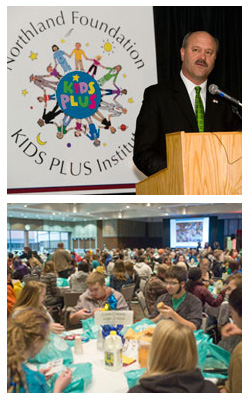 Alan Hodnik (top) inspired attendees in the
morning opening with the story of his humble,
hard-working background to his position
today as CEO of ALLETE.
This daylong event offered 10th-12th graders with a unique opportunity to interact with professionals from an array of career fields as well as higher education representatives. Young people heard first-hand about potential career paths, and learned more about the next steps needed to propel them into jobs they find interesting.
The day began with everyone gathered in the ballroom for the morning opening session, which included a brief strengths assessment completed by each student. The group also heard from several speakers, among them the President and CEO of ALLETE, Alan Hodnik; Rita Olness from the Northeast Minnesota Office of Job Training; and the Northland Foundation Board Chair, Jeff Corey.
Next, it was "game on" as students alternated between break-out sessions (each youth chose two of the nine workshops offered) and the exhibit hall.
On the expo floor, students get interactive with exhibits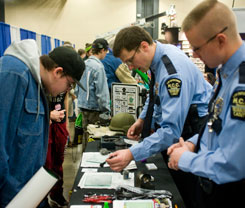 In the expo, law enforcement cadets from
Hibbing Community College provided program
information to interested students.

The expo featured more than 60 exhibitors representing employers and higher education, all of whom were asked to make their booths interactive and engaging. Young people suited up in firefighting gear; climbed into the cab of a semi; tried their skill with backhoe and welding simulators; tested their balance with a physical therapist; assisted a medical mannequin to 'give birth'; explored engineering, chemistry, broadcasting, food service, aviation, mining metallurgy … the list goes on.
"Hands on, real-life applications and demonstrations were crucial in getting our students excited about their future careers ... I appreciated the employers who stated what classes would be important to take for certain careers. Students could see the direct correlation of how what they are doing today will affect them in their future," stated one of the adult school supervisors.
Workshop panelists in industry clusters share their educational and career journeys with youth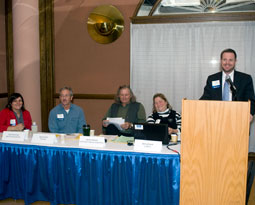 One of 8 industry cluster workshops, Natural
Resources professionals, moderated by IRRRB
Commissioner Tony Sertich, shared their career
journeys during the break-out sessions.
The break-out sessions featured a moderated panel of three or four professionals working within one of eight industry clusters. Workshops included Healthcare, Engineering, Manufacturing and Trades, Public Service and Education, Business and Finance, Technology and Communication, Natural Resources, and Transportation. A ninth break-out, Career Exploration, was designed to help undecided students hone in on their interests and strengths that may help lead them in a career direction.
Each panelist spent the day sharing their real-life insights about their own educational and career journeys as well as some sage advice, to give students a closer look at a variety of fields and jobs – some of which they may not have known about before.
Thanks to all who made Pathway a success for youth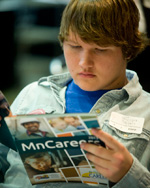 The event helped students to
consider the future within the
context of jobs in the region.

Pathway to Careers could only come to life with the help of many individuals and organizations. The sponsors, speakers, exhibitors, panelists and moderators, volunteers, and adult supervisors from the schools all contributed to making the day run smoothly.
"Putting on an event of this scale is a major undertaking for any organization," stated Lynn Haglin, Northland Foundation Vice President/KIDS PLUS Director, "but thanks to the strong support of our wonderful partners and the schools that participated, we created a memorable experience that will, we hope, have a positive influence on the future of the students and our region."


• Click here to view a 2-minute Video from the event •
• Pathway to Careers Sponsors •