CLIMB Theatre gives area high school students a dose of reality about heroin and meth use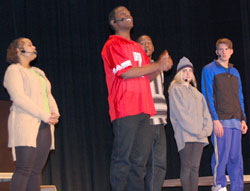 CLIMB Theatre actors portray high school
students dealing with heroin and meth use.

Kayla is an ordinary high school student with a caring father, a supportive best friend, and dreams of becoming a writer. One night at a party, someone convinces her to try meth with the promise that it will make her feel great. Soon, Kayla's life is spiraling out of control as she steals, lies, and is arrested for drug possession. Meanwhile, her classmate Chris is secretly struggling to stay clean. The basketball star is a recovering heroin addict. Theirs are stories that students in northeastern Minnesota may connect with and, hopefully, learn from.
"This program will give students the tools needed to stay away from drugs and things that may hinder their chances of becoming successful adults." —Maria DeFoe, Fond du Lac Objibwe School
To reduce the likelihood that youth will even try dangerously addictive street drugs such as heroin or meth, the Twin Cities-based CLIMB Theatre presented its original play, "Twisted Ride to Nowhere" in late February to students at Carlton, Duluth East, Cloquet Area Alternative Education Programs, Fond du Lac Ojibwe, and Duluth Denfeld High Schools.
The performances and classes were supported with a $13,524 grant from the Northland Foundation. In the past, Northland has provided similar grants enabling schools in the region to host CLIMB Theatre productions on a variety of key topics. CLIMB's mission is to create and perform plays, classes and other works that inspire and propel people, especially young people, toward actions that benefit themselves, each other, and the community.
"CLIMB Theatre has long been a positive partner to reach students in our region, addressing a range of important topics in a way that really engages young people," said Erik Torch, Director of Grantmaking at the Northland Foundation.
"We hope that, together with CLIMB and the Northland Foundation, our school can help prevent heroin and methamphetamine use among our students," stated Maria DeFoe, Principal, in a letter confirming the Fond du Lac Ojibwe School's interest in hosting the performance for its students.
For a taste of what students and staff saw during the local performances, watch a 12-minute video clip on YouTube comprised of scenes from the play.