On eve of his retirement, friends and colleagues celebrate Tom Renier's contributions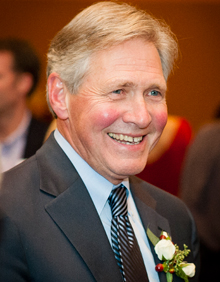 Tom Renier
It was a send-off befitting a high-impact, respected regional leader of more than three decades. On November 6, more than 200 people joined together in Duluth to celebrate Tom Renier.
As the founding president of the Northland Foundation, Tom has guided Northland's growth over the past 28 years with a steady hand and a healthy appetite for calculated risk to benefit the region. His early grounding in economic development at the Arrowhead Regional Development Commission and his passion for rural communities and promoting opportunity for all people has helped shape the foundation into the strong resource it is today.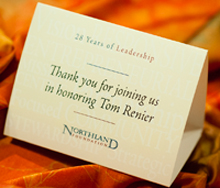 A slate of speakers shared their insights into the personal qualities and memorable moments that have defined Tom Renier's impact on the people, families, nonprofits, businesses, and communities of northeastern Minnesota. Bill Hansen, an Emeritus Trustee, led a program which included Kathy Gaalswyk, founding president of the Initiative Foundation; Kate Wolford, president of The McKnight Foundation; Chris Page, longstanding colleague and friend; Antoinette Monster, Emeritus Trustee and major donor; and Diane Rauschenfels, the current Board Chair.
Bill Hansen recalled how years ago he was asked to serve on the Northland Foundation Board and what a wonderful decision it proved to be. Chris Page stated that Tom's "strong bias toward action and willingness to experiment" have exemplified his effectiveness as a leader. Kathy Gaalswyk praised his wise counsel and partnership. Kate Wolford talked with pride about how the Northland Foundation and the other Minnesota Initiative Foundations have built upon Greater Minnesota's civic infrastructure and modeled a fresh approach to philanthropy that remains unique in the nation. Toni Monster stated that Tom has never lost sight of his vision of creating a better world nor flagged in his drive to effect change. Diane Rauschenfels suggested honoring Tom's legacy by supporting the Northland Foundation and its philanthropic priorities in the future.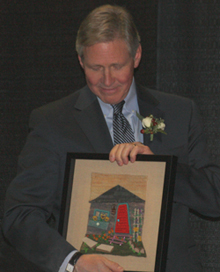 Tom Renier shows a gift from the Board:
an original artwork by Jo Wood.
Guests came bearing gifts. Duluth's Mayor Don Ness officially declared November 6, 2014, as Tom Renier Day. Ness lauded Tom's resolve to build up the region despite the dark economic times of the 1980s.
Next, the immediate past Chair of Northland's Board, Jeff Corey, presented a special gift: the Board granted $10,000 in Tom's honor to help furnish eight units at the Steve O'Neil Apartments where the infant and toddler care room will be named after Tom. This supportive housing project in Duluth will soon provide a permanent, stable home and services to 44 homeless families with children. The Board also purchased six pieces of artwork from a local artist, Jo Wood, representing the concept of home. One piece was given to Tom and his wife, Debbie, and the other five will adorn the apartment complex.
Finally, Tom Renier took the podium and, with wry humor, deflected the spotlight from himself instead giving credit to The McKnight Foundation, Board of Trustees, his friend and advisor, Walter Broughton, the Northland staff, and others for their support.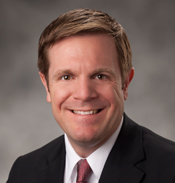 The Northland Foundation Board of Trustees has selected Tony Sertich as president of the Northland Foundation starting January 1, 2015. Tony is a fourth generation resident of Minnesota's Iron Range and has served as the commissioner of the IRRRB since January 2011.
"It was about 15 years ago that I began saying I had the best job in Northeast Minnesota" said Tom, "which was around the time we realized that the Northland Foundation was really here to stay."
He also warmly endorsed his successor, Tony Sertich, who was briefly introduced to the audience.
Many of the speakers and well-wishers expressed their anticipation for how Tom Renier will apply his experience, knowledge, and passion for the region in this next chapter of his life. It is certain that he will continue active board service, including with the Minnesota State Colleges and Universities, Essentia Health - East Region, and Marshall H. and Nellie Alworth Memorial Fund. And, to paraphrase Tom's final remarks, continue to "plant seeds for trees under which future generations will find cooling shade and shelter from the rain."