John Elden, Business Finance Director, retiring after 24 years of mission-driven lending

John Elden
Talking with John Elden, one begins to see how good development lending requires a careful blend of smarts and heart. Elden has mastered that mix during his 24 years as the Northland Foundation's Director of Business Finance. He will retire as of July 31 having spent most of his career building the Business Finance Program from its infancy to the robust regional resource it is today.
John first connected with the Northland Foundation in the late 1980s. He was working at the Northspan Group and was contracted to help implement the Northland Foundation's fledgling loan program. By 1991, the program needed fulltime attention. Then-president Tom Renier hired Elden.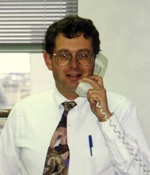 John was hired in 1991 as
Director of Business Finance.
"At the time, we only made direct loans up to $100,000 and our total capitalization was around $2.5 million – more than half of which was deployed," recalled Elden.
Fast forward 24 years: Elden has had a hand in more than 550 loans totaling over $58 million. The Business Finance Program is capitalized at $19.1 million managing more than 100 active loans. The crux of the program is now, and always has been, to support the creation of family-sustaining jobs in the region. With Elden's guidance, it has done so. Loan recipients count 7,000 jobs created or retained as a result of Northland Foundation's financing investments. And, despite the higher risk inherent to development financing, loan losses are low.
"I can't imagine having a more fulfilling job or working with better people. I've been incredibly fortunate." —John Elden
Anyone would be proud of these statistics, but Elden is quick to divert praise. He credits financing partners, including banks and other lenders such as ARDC and IRRRB. He reserves the deepest appreciation for his co-workers over the years, including Renier and longtime Senior Loan Officer, Kurt Johnson, as well as the Board of Trustees and Technical Advisory Committee.
"I can't imagine having a more fulfilling job or working with better people. I've been incredibly fortunate," concluded Elden.
Tony Sertich, President of the Northland Foundation, began the search for a new Director of Business Finance in April to ensure the new hire would have time to shadow Elden. The incoming Director has, after all, a big role to fill.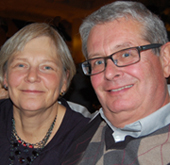 John and his wife, Eileen.
"John is analytical, but he also has a great heart. He's a staunch advocate for borrowers and partners who earn his trust, and he has creativity to 'get the deal done' for borrowers when others might give up and walk away.
"Without question, John has advanced Northland's mission of social and economic justice in this region," added Sertich, "and we wish him and his wife, Eileen, a very happy retirement."