Pathway to Careers 2015 brought regional career and education ideas to over 1,200 students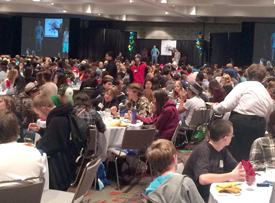 The DECC was filled with over 1,200 students, here
shown enjoying a break and lunch.
From Greenway to McGregor, Barnum to Silver Bay, Ely to Cloquet, Virginia to Indus and beyond, they came. More than 1,200 high school students from throughout the region arrived by the busload to the Duluth Entertainment Convention Center, bright and early on October 27th.
The Northland Foundation's 2015 KIDS PLUS Pathway to Careers was on! A rush of moving bodies and excited chatter filled the space at the DECC as schools checked in while young people munched on breakfast before entering Symphony Hall for the opening session.
Welcome and Keynote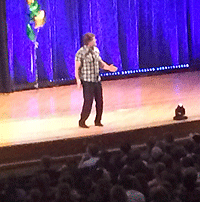 Eric Chester gave a thought-
provoking keynote to start the day.
The keynote presentation put the youth in a good mindset to take full advantage of the day. National speaker and author, Eric Chester, challenged them to think of their futures and careers in terms of a full lifetime, illustrated by a measuring tape spanning the stage. The length representing the high school years looked very short compared to the rest of the 80-year timeline. It definitely gave students food for thought.
After the keynote, the students moved to workshops and the Expo.
Hands-on Exhibit Hall
The Expo featured more than 80 exhibits by employers, economic and workforce development agencies, and higher education. All exhibitors were asked to make their booths interactive to get students involved, engaged, and asking questions. Needless to say, the Hall was a beehive of activity.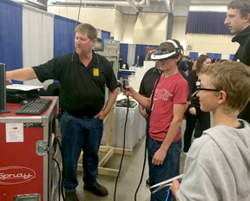 This group of students tried industrial painting,
via a virtual simulator, in the Exhibit Hall.

The young people had the chance to learn about engineering; see boom trucks manufactured in the area; climb into a semi cab, plow/sander, and squad car; test their skills with simulator equipment for pilot training and welding; practice dressing wounds and performing CPR; try firefighting gear; hear about library science, public safety, and more.
They also could connect with colleges from throughout the region (all were represented) to better understand how education and training lead to regional careers and to learn more about specific programs.
Breakout Workshops
The workshops were organized by industry cluster, each featuring three professionals working within that cluster. The panelists shared their stories, discussed their day-to-day work, and answered wide-ranging questions from the students.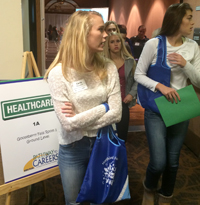 Breakout workshops were organized
by industry "clusters" such as Health-
care, to give students exposure to a
variety of jobs in each sector.
Participants were able to attend two workshops of their choice, picking from Manufacturing & Trades; Public Service & Education; Nonprofit & Philanthropy; Healthcare; Natural Resources; Communications; Technology; Transportation; Engineering; Business & Finance; and an Undecided workshop to help students identify their strengths, interests, and direction.
"The volunteer workshop panelists and moderators did an excellent job of giving personal insights into the different professions," stated Tony Sertich, the President of the Northland Foundation.
It Takes Teamwork
See the day for yourself!
Watch our brief 2015 Pathway to Careers video posted on YouTube.
An event on this scale takes a major investment of human and financial resources. The Northland Foundation received generous support from Pathway to Careers partners.
"Thanks to sponsors, employers and colleges, trade and workforce organizations, speakers and panelists, volunteers, and the 25 schools that coordinated bringing their students," said Lynn Haglin, Vice President/KIDS PLUS Director, "all of these young people in our region had an invaluable opportunity to consider their potential and the countless possibilities for their future."
_______________________________________

THANK YOU Pathway to Careers Sponsors
Special thanks to Premier Sponsors, shown below,
as well as Gold, Silver, and Bronze Sponsors!