1986-2016: celebrating 30 years of partnerships in northeastern Minnesota
Looking ahead to the next generation of impact, together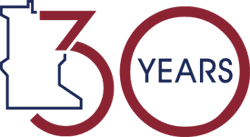 In 1986, The McKnight Foundation created the Northland Foundation as one of six independent, regional foundations to be grassroots resources in Greater Minnesota. McKnight vested them with local leadership and the flexibility to respond to needs in rural communities. The Minnesota Initiative Foundations were pioneers, thanks to McKnight, equipped with a combination of grantmaking, business lending, and program development tools to promote vitality in their respective rural regions.
Trustees circa 1987 (l to r): Dennis Wain, Mike Zilverberg,
Phil Anderson, Ann Niedringhaus, Kari Zelebnik Duncan,
Peg Morris, Carol Rasmussen, and Jim Bovis.
The start-up story of the Northland Foundation and our five sister Minnesota Initiative Foundations is especially unique in enabling lending by the foundations to businesses. It was a philanthropic structure that did not exist anywhere in the U.S. However, the regional stakeholders working with McKnight to determine the form of these new entities understood that social wellbeing is tied to economic prosperity. That connection was painfully clear in the wake of the mining and farming crises that devastated Minnesota's rural communities in the early 1980s.
"McKnight had asked us all to think about what we could do for economic development. We told them the lack of business capital was killing entrepreneurship and stifling growth and contributing to all of the social ills to go along with poverty and unemployment," said Tom Renier, retired president of the Northland Foundation who led Northland from its beginning through 2015.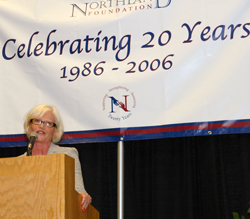 Peg Burke was the interim president at The
The McKnight Foundation when she spoke at
Northland's 20th Anniversary celebration.
Over the decades, the Minnesota Initiative Foundations have grown independently of each other according to the needs of their individual regions. Yet, they share several priorities in common. They remain committed to regional economic development and are still the only foundations engaged in business lending. They each commit significant financial and human resources to early childhood and strengthening preK-3rd grade alignment, for which Northland's KIDS PLUS Program has been a model and catalyst to coordinate statewide efforts. Last but not least, all six foundations rely on the power of people working together to drive change in their communities, region, and state.
Community members, funders, donors, volunteers, board trustees, and civic leaders put the "meat on the bones" of Northland's mission. Countless partners have both supported and challenged us to grow along the way.


Tony Sertich, President

"We have the opportunity now to build on 30 years of great partnerships. It's exciting to think where the next generation of the Northland Foundation will take us."
"Northland has always been about nurturing relationships and creating collaborations to strengthen rural communities, and outreach efforts will only increase moving forward," said Tony Sertich, President of the Northland Foundation.
There will be more opportunities ahead as we launch into a new generation of work in northeastern Minnesota. One thing is certain: listening to the people in communities will be critically important. The McKnight Foundation imprinted us with their DNA to empower Greater Minnesota communities to determine their own path to the future. It's a model that has proven successful, thanks to our many friends and partners who also believe in, and work toward, a stronger and more resilient region.
---
To begin the next 30 years with a fresh perspective, the Board of Trustees has recently updated Northland's mission statement.
Mission

The Northland Foundation invests in people and communities to support a thriving Northeast Minnesota.