Ninth graders spend school year developing leadership then put it to work in community
Sponsors, donors, and adult mentors make Youth Leadership Academy learning and service projects possible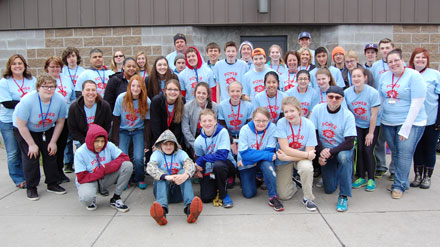 The 2015-16 Youth Leadership Academy on their May 14, 2016 project day at the Boys & Girls Clubs of the Northland, Superior location.
"Oftentimes, we as grown-ups make an assumption that teens are apathetic, but all it takes for them to get engaged is the encouragement to believe in themselves, support from caring adults, and real opportunities to learn and lead." —Lynn Haglin, Vice President/KIDS PLUS Director
It is something special to watch 50 ninth graders from different schools and cities, with guidance from dedicated volunteer adult mentors, tap into their innate leadership potential and realize the important impact they can have on their school, community, and world. The KIDS PLUS Youth Leadership Academy gathers as a group of strangers in September and ends in May with lasting friendships, increased confidence, and enthusiasm for community.
Youth make a difference, and this program helps 50 young people each year to develop their abilities and apply their skills. The 2015-2016 team of ninth grade students with support from the eight adult mentors proved the point. Their planning, fundraising and collecting donations, and hours of sweat equity helped two vital organizations serving children, youth, and families in need.
The young people and mentors worked hard at the
Boys & Girls Club in Superior.
Learn and serve
This spring, the young people and adult mentors undertook their community service project with high expectations and energy to benefit the Boys & Girls Club of Superior, as well as support for the Steve O'Neill Apartments' infant & toddler room.
On Saturday, May 14th, youth leaders and adult mentors transformed both indoor and outdoor space at the Club in Superior. They prepared the garden for planting; stained the shed; picked up trash; cleaned the kitchen; and organized and cleaned the learning center, gym, balconies, and foyer. They also organized a supply drive for the Club, which resulted in new balls, a ball cart, shelving, and tables. In addition, they raised money to purchase essential items for the early childhood programs at the Steve O'Neill Apartments and collected donations of books, craft bins, pillows, toys, and more. All together, these young people collected $1,245 in cash and $2,055 of in-kind donations!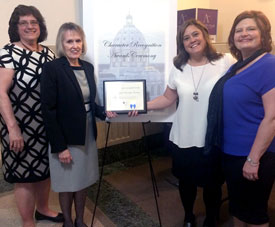 The Northland Foundation received a Minnesota
Ethical Leadership Award in May, from the Synergy
& Leadership Exchange, for the Twin Ports Youth
Leadership Academy. From left: Diane Rauschenfels,
Lynn Haglin, Jan Amys, and Heidi St. John.

18 years of regional impact
Since 1998, more than 1,100 young people and 350 adult mentors have participated in Youth Leadership in Hibbing-Chisholm; International Falls; Cloquet-Fond du Lac; the Quad Cities of Virginia, Mountain Iron, Eveleth, and Gilbert; Duluth, and Superior.
In recent years, Youth Leadership has worked in the Twin Ports of Duluth, MN, and Superior, WI. The "bridging" of young people from these two separate yet closely linked communities not only strengthens individual leadership skills but also increases mutual understanding.
Sponsors are key
The Northland Foundation relies on the support of businesses, service organizations, foundations, and individuals to deliver the Twin Ports Youth Leadership Academy to a new group of young leaders each year at no cost to the youth or their families.
For the 2016-17 program, longtime supporter, Essentia Health has made a major commitment of $25,000 to assist youth from Duluth and Superior to participate. They, along with the many others who dedicate resources to make the Youth Leadership Academy possible, deserve our appreciation for helping to develop the next generation of leaders.
---
Please join us in thanking the 2015-2016 Youth Leadership sponsors and donors who made last year's program possible.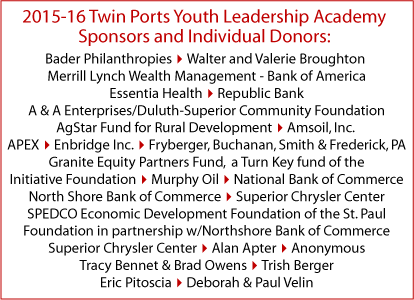 Find out more, volunteer, support
If you want to know more about the KIDS PLUS Youth Leadership Academy, are considering becoming a volunteer adult mentor, or may wish to provide funding support, please contact Jan Amys, Program Associate, at the Northland Foundation.