Reflecting on the first three-year phase of the Rural Aging Initiative
New funding for 2017 will build on solid foundation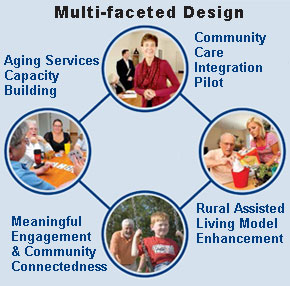 During the past three years, the Northland Foundation has engaged 92 nonprofit directors and board members from 23 aging services organizations; awarded $462,500 to help nonprofits improve use of technology, conduct strategic planning, enhance fund development, etc; provided 50 hours of training, and more ... and this is just one thread of a program woven from multiple strands.
The multifaceted Rural Aging Initiative was launched in 2014 to strengthen aging-in-place for older adults through an array of community-based strategies. The Initiative has helped strengthen aging services organizations, engaged community leaders and older adults to address local needs in two pilot sites, increased opportunities for adults 55+ to be engaged in their community through Northland's nationally recognized AGE to age program, and enhanced operations and long-term viability of the Foundation's assisted living model. Below are a few of the Initiative outcomes.
Building capacity of 23 aging services organizations. Offered training and financial awards to help nonprofits better serve older adults and their family caregivers.
Assisted an organization to obtain its 501(c)(3) status to sustain services throughout the large rural county it serves.

Expanded legal service programming for older adults living in Moose Lake and Aitkin County.
Organizing action teams in two pilot sites. Connected formal and informal services and supports, and funded local projects in Moose Lake and Aitkin County.
Created and distributed brochures and other outreach efforts to inform rural older adults and their family caregivers on available local services.

Addressed local needs of older adults through chore service programs, transportation access, and educational opportunities.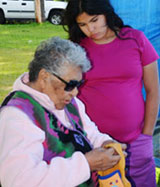 Engaging older adults to share their time, talent, and knowledge. Provided an avenue for older adult volunteers to support youth and improve the community in 13 AGE to age sites.
Recruited 53 college interns who spent nearly 11,000 service hours on intergenerational programming in rural sites.

Bolstered children's social-emotional development and literacy with older adult volunteers giving one-to-one reading help.
Honing a high-quality model of assisted living. Enhanced rural housing-with-services for older adult residents.
Created Health & Wellness Coordinator positions to support residents' psychosocial, physical, and spiritual wellbeing.

Implemented new technology to track staff productivity, improve communication, and help ensure resident safety.
As the initial three-year phase wraps up, the Northland Foundation would like to thank the participating organizations, regional partners such as the Arrowhead Area Agency on Aging, expert consultants, volunteers, and people of all ages in communities who, together, are making our region a better, more vibrant place to grow older.
_______________________________________

Good news: additional funding to support 'Phase II'
The Northland Foundation has been approved for additional multi-year funding from the Margaret A. Cargill Philanthropies. 'Phase II' of the Rural Aging Initiative will, starting in 2017, build on the past three years to ensure older adults in rural northern Minnesota age with purpose, dignity, and independence.
"Our Board of Trustees and our staff team were thrilled to get the news of this funding," said Tony Sertich, Northland Foundation President, "allowing Northland to dig even deeper into this work and better meet the needs of our aging population into the future."
_______________________________________

Read more: Rural Aging Initiative overview available
A six-page publication highlighting the Rural Aging Initiative goals, design, outcomes, key lessons, and impacts is available for download.
If you have questions or want would more details about the Initiative, contact Zane Bail, Director of Development and Special Projects at the Northland Foundation.