TeenWORKS helps youth develop practical job-seeking and soft skills for career success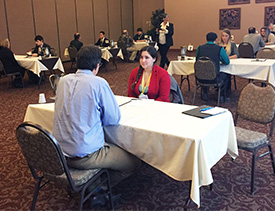 Business people volunteer their time to provide job
interview experience to rural high school students.
Nervous tension filled the room as seven high school students waited for the cue to begin. Handshakes, eye contact, and résumé copies were ready as the youth stepped out of their comfort zone and into mock job interviews with area business people. Interview day is the culmination of a semester-long learning experience offered through GRAND TeenWORKS to young people living in the small towns and rural expanses of Itasca County.
Supported by the Grand Rapids Area Chamber of Commerce, Itasca County Health and Human Services, the Northland Foundation, and other partners, TeenWORKS has helped dozens of high school students improve their outlook for lifelong success. Through the program, they tour area businesses and network with professionals, take a survey to identify their strengths, write a résumé, and develop education and career goals framed by a five-year plan.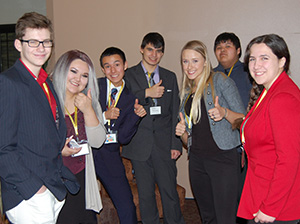 Students were dressed for success on interview day.
"TeenWORKS is a 70-hour commitment for the students, so it is serious business," said Bud Stone, President of the Grand Rapids Chamber. "It was designed in 2010 by employers to help young people see their potential, set future goals, and gain some of the practical tools to reach those goals. It's a win-win for youth, employers, and communities."
Teenage participants attend Itasca area schools which include the communities of Deer River, Bovey/Coleraine, Grand Rapids, Bigfork, Hill City, Remer, Warba, and Nashwauk/Keewatin. They have the opportunity to earn high school credit by completing the program.
"Young people in rural communities don't always get exposure to the full spectrum of career opportunities, or know the steps they need to take to achieve their dreams," stated Erik Torch, Director of Grantmaking at the Northland Foundation.
"Programs like TeenWORKS give our future labor force a greater understanding of what it takes to thrive in the 'real world' and start them on the path to a productive, fulfilling future."