Northland Foundation taps new resources and expands roles to address child care challenges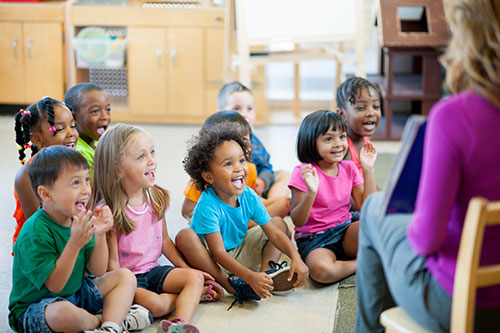 The Northland Foundation has been a driving force in promoting early childhood development and high-quality care and education for over 15 years. We know, and research affirms, that investing in young children pays long-term dividends.
In 2003, the Northland Foundation, along with the five other Minnesota Initiative Foundations and The McKnight Foundation, created the Minnesota Early Childhood Initiative. This groundbreaking, rural-led movement brought early childhood into the spotlight from the northwoods of Ely to the capitol building in St. Paul. The 12 Early Childhood Coalitions that Northland Foundation established in our region are today part of a thriving network of 90 coalitions throughout Greater Minnesota.
New opportunities that scaffold off of this foundational work have continued to arise. For example, families seeking child care are met with long waiting lists and few options; community members and businesses have spoken about the need for more high-quality child care in northeastern Minnesota; and providers face hurdles of time and cost to become licensed and to earn a Parent Aware rating (Minnesota's quality rating system). The Northland Foundation is listening and responding.
The pressing need for more child care


"A lack of good, affordable, reliable child care impacts not only families but also employers. It's an economic as well as a social issue that our society has to come to grips with in order to thrive." -- Tony Sertich, President of the Northland Foundation.
While there are alarming child care shortages across Greater Minnesota, northeastern Minnesota has the most dramatic shortfall. An October 2016 report by the nonprofit Center for Rural Policy and Development indicated that 55 percent more openings are needed in our region.
"The results of the October report, although sobering, came as no real surprise. Through our early childhood work in communities, we have heard over and over that the demand for child care far exceeds availability, causing hardships for families and employers," said Lynn Haglin, Vice President/KIDS PLUS Director at the Northland Foundation.
At nine informal listening sessions that Northland hosted in seven counties and on the Fond du Lac Reservation this past spring, the child care shortage was a recurring theme, as well.
Different avenues and new resources

The Northland Foundation is leveraging past experience to do more to bolster early care and education and increase access to high-quality care. We are engaging all our program areas in these efforts: Grants, KIDS PLUS, and Business Finance. Among the most recent opportunities we have pursued are:
Being selected as the area administrator for Minnesota Early Learning Scholarships in the seven counties of northeastern Minnesota. With nearly $2 million from the State, the Northland Foundation is processing applications for scholarships up to $7,500 per child, per year, to help families pay for high-quality child care or preschool programs. Eligibility guidelines target those most in need: households earning 185 percent of the Federal Poverty Rate or less; families that have experienced homelessness; parents age 20 or under; and children in protective services or foster care.
Distributing $125,000 in grants and technical assistance to increase the number of child care slots in the region with support from the DEED Greater Minnesota Child Care Program. The funding from DEED, combined in some cases with a Business Finance Program loan, is helping five child care programs in northeastern Minnesota to create 106 new openings for young children. The Northland Foundation hopes to secure additional funding from DEED and other parties to bridge financial gaps so that more child care programs can start up or expand.
Expanding our Parent Aware Pathways Initiative to complement the State of Minnesota's efforts to encourage child care providers to become Parent Aware-rated. Since its launch in 2013, nearly one-third of licensed providers in northeastern Minnesota have become or are in process of becoming rated, the highest percentage outside the Twin Cities East Metro. Parent Aware Pathways is ongoing and continues to bring more providers on board each month. The Mardag Foundation and the Blue Cross and Blue Shield of Minnesota Foundation are key funding partners.

Adding a new dimension to the Parent Aware Pathways Initiative: strategies to assist individuals who are interested in becoming child care providers with the requirements to become licensed, supported with a grant from The Sheltering Arms Foundation.
"The Northland Foundation Board of Trustees and our staff are committed to doing more to reduce the barriers faced by families and by providers to access and offer high-quality care for young children. The future of our communities depends on us all working together to find solutions," concluded Tony Sertich.