KIDS PLUS celebrates 25 years of partnerships to shine a light on children and youth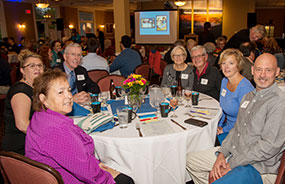 Guests included current and former Board Trustees
and staff members, coordinators and volunteer
mentors, and many funding and community partners.

On October 5, nearly 140 people attended a gathering to celebrate 25 years of the KIDS PLUS Program. Guests enjoyed social hour, dinner, program, awards presentation, and photo booth fun. The Northland Foundation Board of Trustees and staff hosted the event to lift up and thank the supporters and community partners who have brought KIDS PLUS to life in northeastern Minnesota.
Among the guests were representatives from funders and champions for children and youth, including Essentia Health, Minnesota Power, and Blandin Foundation. They were joined by KIDS PLUS coordinators, volunteer mentors, program participants, and donors who have provided critical support. United States Senator Amy Klobuchar, although unable to be there in person, sent a video message affirming the role KIDS PLUS plays in shaping Minnesota's future leaders.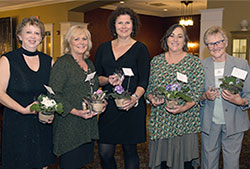 Awardees were (L to R) Lori Fichtner, Cheryl
Meld, Vicki Radzak, Chris Langenbrunner,
and Rita Baresh.
Four longtime KIDS PLUS coordinators: Lori Fichtner, Cheryl Meld, Vicki Radzak, Chris Langenbrunner, and outstanding volunteer, Rita Baresh, were honored with special awards. These five individuals have spent a combined 93 years (and counting!) working with KIDS PLUS in their northeastern Minnesota communities on behalf of children, youth, families, and older adults.
Tony Sertich surprised Lynn Haglin with a
tribute to her KIDS PLUS leadership.

Speakers who took the podium that evening were Steve Downing, current Board Chair; Tony Sertich, President; Lynn Haglin, Vice President/KIDS PLUS Director; Fayne Copeland, former Bovey-Coleraine KIDS PLUS Coordinator and Legacy Friend of the Northland; Chris Langenbrunner, a longtime KIDS PLUS coordinator; and Luke Wohlwend and Theo Britton, former and current KIDS PLUS program participants. Each speaker gave great insights into the impact of KIDS PLUS. Tony also surprised Lynn with roses and praise for her 25 years of amazing leadership.
Through its KIDS PLUS Program, the Northland Foundation has worked with local, regional, statewide, and national partners on youth development, early childhood, intergenerational programs, and access to high-quality child care. We will continue listening, learning, and asking "what's next?" for KIDS PLUS.
---
Scroll through 25 Years of KIDS PLUS Milestones for a look at a quarter century of initiatives, in partnership with community and funding partners.