Nonprofits creating new earned income opportunities through Social Enterprise Initiative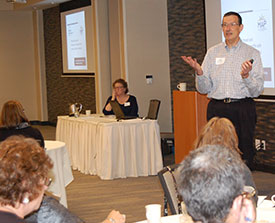 Janet Odgen-Brackett and Glyn Northington of
Propel Nonprofits (formerly MAP for Nonprofits)
lead a September 20th social enterprise training.
The partner organizations of the Social Enterprise Initiative have made great progress in advancing their income-generating ventures designed to help people with low incomes develop career pathways and build financial assets. The special initiative project period will draw to a close in a few months, but the results achieved by participants will continue to reduce the impacts of poverty in the region.
The Initiative took a collaborative approach to promoting social enterprise start-ups and helping existing ventures to make improvements. Funding was provided by the Northwest Area Foundation, technical assistance by the UMD Center for Economic Development and Propel Nonprofits (formerly Nonprofits Assistance Fund and MAP for Nonprofits), and small group training and information-sharing among participants generated new learnings.
Maria DeFoe discusses the Journey Garden
project which engaged Fond du Lac Reservation
youth to grow fresh produce and sell food products.

On October 25, the nine participating organizations presented project updates to their peers, sharing both challenges and successes. Below are brief summaries of each nonprofit organization's enterprise that received Initiative support.
American Indian Community Housing Organization, Duluth: Advancing the Indigenous First Art and Gift Shop, providing under-represented indigenous artists and makers with marketing support, exhibit space, and retail sales to increase their profile in the community as well as bolster artists' incomes.

Arrowhead Economic Opportunity Agency, Virginia: Auto repair shop including securing a lease and making site improvements in order to provide well-paid employment opportunities and enable lower income people to afford car repairs by charging using an income-based sliding scale.

Community Action Duluth, Duluth: Bringing products to market via a Farmers Market in a local food desert, and producing value-added fruit leather to generate income year-round, with major equipment purchased that will enable the fruit leather operation to scale up.

Fond du Lac Band of Lake Superior Chippewa: Expanding the Journey Garden program, teaching youth skills including gardening, canning and creating other value-added foods, and selling them on the Fond du Lac Reservation, improving Band members' access to healthy foods.

Itasca County Habitat for Humanity, Grand Rapids: Hired a Manager for the Re-Store and developed better outreach and advertising strategies to promote this affordable resource that is available to the community.

Life House, Duluth: Youth-led enterprise, Limitless Candles, empowering youth with barriers to traditional employment to gain job experience through candle making and sales, with a building secured for work space and an e-commerce site under development.

One Roof Community Housing, Duluth: Strengthening operations and management practices, and investing in software for Common Ground Construction to improve its efficiency and ability to take on more private contracting work to further support One Roof's affordable housing mission.

Something Cool, Inc./McGregor KIDS PLUS, McGregor: Establishing the NeighborGoods store to provide space for youth to learn about business as well as offer rented booth space for adult and youth crafters and makers to sell their products and enhance their income.

Western Lake Superior Habitat for Humanity, Duluth: Purchase and detailing of a delivery truck to allow the Habitat Re-Store to make pick-ups of gently used appliances, fixtures, cabinetry, and other home improvement products for re-sale, as well as increase visibility in the community.
L to R: Angie Miller, Community Action Duluth;
Erik Torch, Northland Foundation; and Moira
Villiard, American Indian Community Housing, are
interviewed by MPR's Dan Kraker.
Strategies to raise broader awareness about social enterprise included a convening held September 20, titled "What is Social Enterprise, Anyway" with a presentation by technical assistance partner, Propel Nonprofits, along with a panel discussion among local professionals regarding their own social enterprise experiences. On November 2, a social enterprise-focused "Policy and a Pint" was held at the Zeitgeist Teatro Zuccone in Duluth, including a panel discussion and audience questions, facilitated by Dan Kraker of Minnesota Public Radio. Policy and a Pint is a partnership between the Citizens League and The Current.
"The outreach and education component of this Initiative is informing more people across various community sectors about social enterprise as one possible avenue for nonprofits to meet their mission while creating job-training and work opportunities for people with low incomes," said Erik Torch, Director of Grantmaking for the Northland Foundation.
The Social Enterprise Initiative will conclude on April 30, 2018.