High school students celebrate their leadership development and achievements
Youth In Philanthropy and Youth Leadership participants gain new skills and give back through experiential learning and leading
2017-2018 Youth In Philanthropy Board
The Minnesota Power Foundation Youth In Philanthropy board had a busy and productive year, awarding a total of $25,257 to 35 youth-led projects. Their $25,000 grantmaking budget was made possible thanks to major program support from the Minnesota Power Foundation, a longtime partner of the Northland Foundation. Additional program funding support was provided by Bader Philanthropies.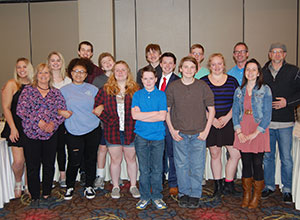 The Minnesota Power Foundation Youth In Philanthropy
Board awarded more than $25,000 this past year!

Following a fall orientation, the board met in its official capacity in October, January, and April to review, discuss, and make funding decisions on grant applications written by children and youth requesting up to $1,000 for projects all around the region.
The 2017-2018 board was made up of 15 students from Chisholm, Cloquet, Duluth, Ely, Hibbing, McGregor, and Superior, along with four volunteer adult representatives: Jamie Adams, Fond du Lac Band of Lake Superior Chippewa; Brad Flynn, ALLETE; Cheryl Meld, McGregor KIDS PLUS/Something Cool, Inc.; and Tim Stratioti, Superior Branch of the Boys & Girls Clubs of the Northland.
After their April afternoon grantmaking meeting, this outstanding group of young people and mentors were honored for their dedication, commitment, and leadership during a banquet held at the Duluth Holiday Inn & Suites.
"These young grantmakers took their board tasks seriously and thoughtfully. They, their families, and their communities have every reason to be proud of their accomplishments," said Tony Sertich, Northland Foundation President.
2017-2018 Twin Ports Youth Leadership Academy
For the 20th consecutive year, the KIDS PLUS Youth Leadership Academy joined Duluth and Superior area students with adult mentors to strengthen their capacity to serve as leaders both now and in the future. A total of 48 ninth graders and 13 mentors engaged in the nine-month series of interactive workshops designed to hone their communication, teamwork, and leadership abilities. With that foundation in place, the youth selected a service project to benefit a local nonprofit. The students planned every element of the project, from gathering supplies to fundraising to alerting the media.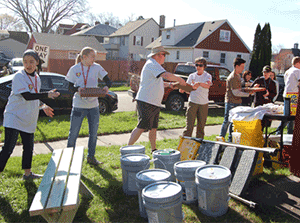 The Harbor House project on May 12 took teamwork.
Here, youth and mentors pass blocks for the patio.

A diverse mix of young people, plus caring adult mentors, working side-by-side has proven to be a magic combination, judging by the comments shared at the celebration held on May 17th. Here are just a few insights the young people and mentors offered:
"It was always great to see Youth Leadership on the calendar and know that I'd be around friends who would make my day so much better. I have an understanding of love and laughter that I never had before." Julia, youth leader

"At the beginning of this program, I wouldn't have been able to (stand up and speak). I was self-conscious about everything. Now I know that doesn't matter. People remember the good and how you made them feel." Lily, youth leader

"You took a risk by saying yes to this opportunity. Showing up and saying 'yes' got me where I am today. You can do the same!" Luke Wohlwend, adult mentor & former youth leader
This year's class chose Harbor House Crisis Shelters, which serves families experiencing homelessness, for their service project. Teams spent months planning their work and a busy Saturday scrubbing, painting, building a patio and play area, planting flowers, and delivering a mountain of donated items for families entering the shelter or transitional housing.
Harbor House Executive Director, Barb Certa-Warner, spoke to the young leaders at the celebration, saying, "You have made a welcoming, hospitable place so that when families come in, they feel cared for and loved in a way that doesn't need words."
---
Special thanks to our generous sponsors and donors, whose support enables the Northland Foundation to offer this program, which costs $1,600 per student per year, at no charge to youth.