Economic Impacts of the Child Care Shortage in Northeastern Minnesota
Newly published report and regional event spotlights shortage, fuels community conversations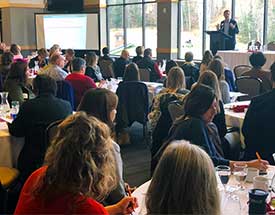 More than 100 people from across the region spent
their morning focused on the child care shortage.
On October 25, a total of 105 people gathered at Giant's Ridge in Biwabik to focus on the acute child care shortage in northeastern Minnesota and hear about a newly released report, Economic Impacts of the Child Care Shortage in Northeastern Minnesota (note the infographic data summary on the last page).
A dynamic cross-section of leaders from around the region attended, from Business/Economic Development/Elected Officials/Government (52%); Nonprofit and Philanthropic (20%); Early Care and Education/Child Care (18%); and K-12 Education and Higher Education (10%).
Mary Finnegan-Ongaro of the Minnesota Department of Iron Range Resources and Rehabilitation (IRRR) welcomed everyone followed by opening remarks by Kathy Annette of the Blandin Foundation.
Next, Tony Sertich presented key takeaways from the study. Among the most telling: 4,500 more child care slots (50% increase) are needed to meet demand; and the estimated cost to fill that gap ranges from $891,000 to $11.3 million, depending on family child care vs. centers, and expansion of existing entities vs. opening new ones. But, the costs of not increasing child care are much higher: tens of millions in lost productivity, household income, tax base, and future opportunities for children without high-quality early care.
Six panelists representing the United Way of Northeastern Minnesota; IRRR; Blandin Foundation; Northland Foundation; Child Care Aware Minnesota - Northeast, and First Children's Finance shared what has been happening in the region to address the child care shortage and resources currently available.
Group discussion and summary of responses
Following a Q-and-A with the panelists, attendees broke into groups by county. One or more tables hosted participants from Aitkin, Carlton, Cook, Itasca, Koochiching, Lake, Southern St. Louis, and Northern St. Louis counties.
Groups were asked to discuss and respond to four questions: (1) What are possible solutions to address the child care shortage in your community/county? (2) What resources are needed to address the child care shortage? (3) What are potential obstacles to increasing child care options? (4) What are two specific steps you can take to move forward? Conversation was lively. Themes that emerged from the small-group responses are summarized below.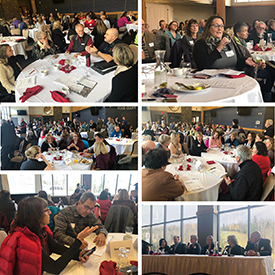 SOLUTIONS discussed include: exploring community buildings such as schools, churches, vacant businesses, and nursing homes for the potential start-up of a child care center; investigating child care models such as the pod model and shared site model; creating a child care navigator position; developing multi-sector partnerships with the faith community, business community, higher education, and city government; and securing funding through grants, loans, and tax free zones.
RESOURCES needed to address the child care shortage were identified, including: rallying the active engagement of community and business leaders; identifying the appropriate child care model for the community and potential sites; securing funding; generating public awareness on the importance of the issue; and learning more about the education and training needed to become a licensed child care program provider.
OBSTACLES that were mentioned include access to a child care workforce due to low wages, lack of benefits, and competition from other employers who can offer higher pay; lack of understanding of licensing requirements for family and child care centers; and limited funding options for the start-up and expansion of child care.
ACTION STEPS identified by the 16 small groups include: researching child care program models; reviewing local data; investigating possible locations for a child care program; forming public-private partnerships; and reaching out to elected officials.
An economic and workforce challenge
More than one person at the event expressed that child care is closely linked to economic development. When people choose where to live and work, child care availability is a key factor.
It was emphasized throughout the program that no silver bullet or easy answer exists. New collaborations are needed among diverse partners, at the local level, to pursue out-of-the-box ideas to ensure a vibrant, business-friendly future for our communities.
More information
The link to the Economic Impact of the Child Care Shortage report can be found on the Publications page of Northland's website: https://www.northlandfdn.org/news/publications-annual-report.php.
The Northland Foundation is available to present the findings of the research study at community meetings, as well as participate in community conversations about moving forward to address the child care shortage. Contact us.
Resources for information, support, and technical assistance include: