Nonprofits addressing domestic violence and sex trafficking in the region gather

At the tail end of January, executive directors and program leads braved a harsh blast of artic air to share updates on their important work within domestic and sexual violence and sex trafficking.
Staff from nine nonprofits gathered on January
31st to talk about their work in the region.
A group of 17 people from 9 organizations met by invitation of the Northland Foundation to talk about their programs and the current environment in which they serve individuals, families, and communities.
"It's good to see all these individuals talking together around the table. Not all communities have that," said Ed Heisler, the Executive Director of Men As Peacemakers, during the session.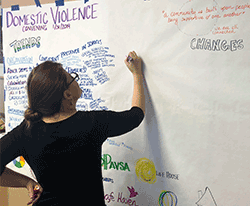 Nelle Rhicard of re_Frame Ideas graphically
recorded talking points and themes.
The Northland Foundation has long supported prevention and intervention efforts within its priority area of Individual and Community Wellbeing. In recent years, the Twin Cities-based Patrick and Aimee Butler Family Foundation has partnered with Northland, as well, to make additional grant funding available to northeastern Minnesota organizations working in the realms of domestic violence, sexual violence and exploitation, and sex trafficking.
Participants touched on a range of topics, including:
the prevelance of mental health issues and addiction issues among the clients they are serving, and the need for more treatment resources in these areas;

new training, progamming, and curriculums being implemented or created and collaborations happening;

observations about working within systems and changes to the funding and technical assistance environment; and

the major challenge of helping clients find a safe place to live due to the lack of affordable housing.
"Convening grantees around a specific priority gave both them and us a chance to hear updates, discuss trends, and connect all together," stated Erik Torch, Director of Grantmaking at Northland. "We really appreciate their time and insights."
---
Thanks to the following organizations who participated:
American Indian Community Housing Organization
Center Against Sexual & Domestic Abuse (CASDA)
Domestic Abuse Intervention Program
First Witness Child Advocacy Center
Life House
Men As Peacemakers
North Shore Horizons
PAVSA
Safe Haven Shelter and Resource Center

Unable to attend due to weather:
Advocates for Family Peace
Friends Against Abuse
Patrick and Aimee Butler Family Foundation