Funding partners help address critical needs in Northeast Minnesota
Sheltering Arms Foundation awards $15,000 to enhance quality child care and early education
The Northland Foundation has been awarded a $15,000 grant from the Sheltering Arms Foundation. The funding will support educational workshops aimed at engaging people working with young children and families in variety of settings, including informal family, friend, and neighbor care; licensed child care; school-based early childhood programs; and early elementary classrooms. These learning opportunities will focus on ways to better support children's social emotional needs and learning.
"The Sheltering Arms Foundation has been a great partner in our rural region," stated Lynn Haglin, Northland Foundation Vice President/KIDS PLUS Director.
"This new grant will help us expand opportunities for people from different settings and sectors in our communities to be grounded in a shared understanding of best practices that nurture the healthy development of children birth through eight," she said.
---
Essentia Health grant supports Youth Leadership Academy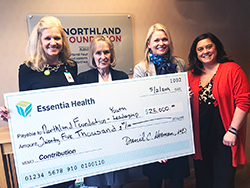 (L-R) Debbie Welle-Powell, Essentia Health;
Lynn Haglin, Northland Foundation; Tonya
Loken; Essentia Health, and Jan Amys,
Northland Foundation.
Essentia Health has awarded a $25,000 grant to help provide the KIDS PLUS Twin Ports Youth Leadership Academy during the 2019-2020 school year. The nine-month program recruits 50 ninth grade students from Duluth and Superior, along with 12-15 adult mentors, to participate together in leadership learning and teambuilding activities. Their experience peaks with the young people planning and executing a daylong volunteer service project.
"Each spring, we see how the young people coming through this program have grown in confidence and their commitment to be involved with their schools and communities," stated Tony Sertich, President of the Northland Foundation.
"Thanks to the generosity of sponsors such as Essentia Health, a new group of young people will have this life-changing experience next year, at no cost to their families," added Sertich.