AGE to age grows and evolves regionally while gaining recognition nationally
Interest in connecting younger and older generations to improve the well-being of all ages is on the rise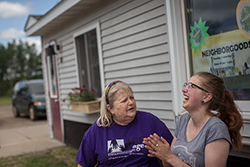 McGregor's Barbara Coplan and Anna Vierkandt
were featured in a National Public Radio story
about AGE to age. Photo: Meredith Rizzo/NPR
Quick: name two groups of people whose value is too often overlooked and who, as a result, may feel "invisible".
If you guessed youth and older adults, you're right. In a digital society distracted by screens, our tweens, teens, and older adults may be left with fewer meaningful, personal connections. In rural places, extended family or the nearest neighbors may be miles away. Lack of public transportation and fewer places to socialize can also contribute to isolation and loneliness.
Since 2008, the Northland Foundation's AGE to age initiative has provided opportunities for rural residents from ages 9 to 99 to get to know each other face-to-face. What started as 10 pilot sites has grown to 18 sites in seven counties and three of the region's five Tribal Nations. AGE to age has engaged thousands of people of all ages, ignited over 1,000 projects and activities, and spun off two other programs: Reading Pals and College Interns.
Reading Pals and Summer Interns bring added dimension to AGE to age
The Summer College Interns and Reading Pals programs expand the impacts of AGE to age in different ways.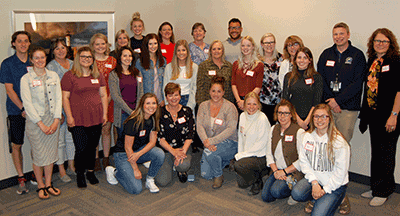 2019 AGE to age summer interns, with coordinators, spent six weeks
immersed in intergenerational community programming.
The Summer Intern program links students to participating AGE to age sites for paid, community-based work experience during the summertime in their home communities. In June and July 2019, 18 interns worked in nine AGE to age sites: Aitkin, Chisholm, Cloquet, Hibbing, Moose Lake, McGregor, North Shore Area, Proctor, and Two Harbors. Some of the projects they contributed to include community gardens, health and wellness activities, technology learning for older adults, chore services, and more.
Reading Pals invites older adult volunteers to offer literacy help by reading with elementary school students. This past year alone, 111 older adults in Aitkin, Ely, McGregor, Moose Lake, Proctor-Hermantown, and Two Harbors partnered with 560 children. Watch for more about Reading Pals in our Annual Report this October.
AGE to age's success has taken hold in northeastern Minnesota, and it is also gaining attention nationwide.
NPR and conference opportunities share AGE to age with national audiences
"I believe what makes this program special is how each site makes it their own, creating positive ripples all across their communities." —Lynn Haglin, Vice President/KIDS PLUS Director
AGE to age reached a diverse national audience this August thanks to a story on National Public Radio's All Things Considered program and an article that spotlighted the AGE to age community of McGregor. The broadcast and online article, entitled Bringing Together Young and Old to Ease the Isolation of Rural Life shares insights from the McGregor AGE to age coordinator, Cheryl Meld, and several AGE to age participants.
Northland's aging and intergenerational work has also reached nonprofit leaders and aging advocates around the U.S. In recent months, our staff and community partners have presented at the Generations United, Grantmakers in Aging, AARP International, and Age and Disabilities Odyssey conferences.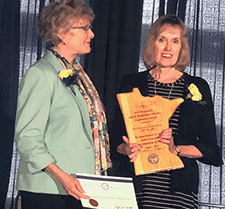 Lynn Haglin accepted the Odyssey Award.
AGE to age was also honored with an Age & Disabilities Odyssey Award at the 2019 Age & Disabilities Odyssey Conference, which is sponsored by the Minnesota Department of Human Services and the Minnesota Board on Aging. Kristi Kane, Division Director of the Arrowhead Area Agency on Aging, nominated the Northland Foundation for this prestigious award.
"The credit for AGE to age's success lies with the communities. Older adults and young people step outside their comfort zones, choose to get involved, and reach out to make new friends. It's amazing how powerful that can be," said Lynn Haglin, Vice President/KIDS PLUS Director.
---
Find out more about AGE to age
For more about AGE to age, call the Northland Foundation at 218.723.4040 or 800.433.4045, explore the KIDS PLUS section of our website, and visit the Intergenerational/AGE to age links on the Publications page.