Business Finance Program News

Loans closed to support expansion of two northeastern Minnesota businesses
The Northland Foundation's Business Finance Program has recently closed two loans totaling $277,500. The financing will assist with growth at two well-established businesses in the region.
Accuflex Coatings, LLC, Proctor

Rural Living Environments, Babbitt

To learn more about the Business Finance Program and the tools available, please email Michael Colclough or Alex Bastien, or call the Northland Foundation at (218) 723-4040.
---
Loan client Rural Living Environments expands in Babbitt and beyond
Donald Negley, CEO/CFO, and Leanne Negley, Board Treasurer and Designated Manager, together established Rural Living Environments in 2002 to fill a service gap that they saw existed in northeastern Minnesota for people with intellectual and developmental disabilities. Today, the couple's business includes 12 sites in the Babbitt and Ely area, which provide supported living services (group homes) and independent living, in-home family support, supported employment services, and crisis/respite services. Their company employs approximately 100 staff.
Rural Living Environments is a multiple-time loan client of the Northland Foundation, most recently for construction of a new Crisis and Respite Care site in Ely completed in 2018 and, this past year, for the extensive renovation of a formerly vacant building in Babbitt.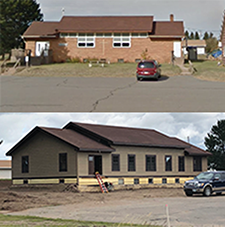 Before and After: Renovations on the
former church in Babbitt are targeted for
completion by the end of August.

In 2017, the couple purchased a 5,100 square foot former church and parsonage in Babbitt. The parsonage building will be leased out, but the church building is being remodeled to serve as the company's main office, as well as a meeting and event space in the lower level that will also be available for renting out to the public.
"Supporting economic growth in small towns like Babbitt and Ely is at the core of our mission, so we have been glad to play a part in Rural Living Environment's success," said Michael Colclough, Business Finance Director at the Northland Foundation.
In an interview, the Negleys reveal more about their business.
Q: What inspired you to start your organization in northeastern Minnesota?
A: Rural Living Environments is founded on a belief in providing client-centered services to people with intellectual and developmental disabilities, allowing each person the opportunity to obtain the greatest level of independence in the least restrictive environment.
Q: How many locations do you currently operate?
A: We have five Adult Foster Care residential sites serving 13 individuals, 8 individuals living in their own apartments or sharing a home with a housemate, and up to 4 people in our Crisis/Respite site. The Crisis/Respite site serves both adolescents and adults.
"We are able to renovate a property that could have easily seen a different fate. With the help of a SBA loan from the Northland Foundation, we can both renovate the building and have long-term, reasonable financing for the project."
—Don Negley, CEO/CFO
Q: What are your plans for the Babbitt building?
A: The site will become the new home of Rural Living Environments' offices, but it will be much more than an office. The main floor will serve as corporate offices, conference center, and a web conference center to hold remote meetings. The basement will serve as the company gathering location for events such as celebrating birthdays and holidays, watching baseball, football, and hockey games, as well as a company training center. The main and basement floors are designed with separate entrances and will be ADA compliant. The basement will be able to be rented out to the public for other events.
Q: What's been happening with the Ely location?
A: We currently serve three individuals, on average, at the Ely Crisis/Respite site, with a typical stay ranging from 30 to 150 days. When we reach maximum capacity, this site will have a staff of 24 with an annual payroll of more than $950,000 and an operating budget of more than $1.3 million.