Northland Foundation now hosting the region's Small Business Development Center
After nearly three decades as host, the University of Minnesota Duluth passes the torch to Northland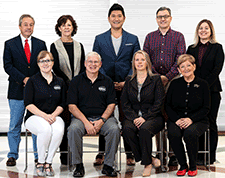 Consultants are strategically located in
Grand Rapids, Duluth, Hibbing/Chisholm,
International Falls, Grand Marais and the
Quad Cities.
As of mid-October, the Northland Foundation became the new host of the Northeast Minnesota Small Business Development Center (SBDC). The SBDC, previously hosted by UMD within its Center for Economic Development, provides technical assistance to help people in the seven-county region start, manage, and grow their businesses. The SBDC is a program of the U.S. Small Business Administration supported at the state level by MN DEED and hosted regionally.
"This SBDC-Northland partnership is a natural fit," stated Tony Sertich, President of the Northland Foundation. "Both organizations serve the same seven-county footprint, and we have worked for many years as colleagues in the economic development and entrepreneurship sphere."
Consultants and services
Currently there are business consultants in Grand Rapids, Grand Marais, Quad Cities (Eveleth, Gilbert, Virginia, and Mt. Iron), International Falls, Hibbing/Chisholm, and Duluth. Consultant locations are chosen to serve nearby population centers and be within a 1.5 hour drive for anyone in the region.
"The excellent services provided by the staff of the SBDC will continue to serve our businesses and entrepreneurs with the shared values and focus of the foundation."
—Elaine Hansen, retired Regional SBDC Director
The assistance provided includes wide-ranging services such as feasibility analysis, loan packaging, financial analysis, market research, and much more. The SBDC also regularly hosts workshops such as How to Start a Business in Minnesota.
Funding partnerships
Clients are not charged for services, thanks to funding from the SBDC, MN DEED, the Northland Foundation, and partners such as the Department of Iron Range Resources, area Economic Development Agencies, Chambers of Commerce, UMD's Natural Resources Research Institute, and others.
"Northeastern Minnesota covers over 18,000 square miles with our consultants located throughout, more than are required by the SBDC, so that entrepreneurs who need services can access them easily, and at no charge.
"Cities, counties, EDAs, and other entities understand the benefit of having this resource nearby, and their funding support is critical to maintaining consultants region-wide," said Sertich.
Large region, big impact
SBDC data from calendar year 2018 illustrates the impact the region's consulting team has within the seven counties:
821 unique clients

7,766 consulting hours

1,000+ client-created jobs

$16 million raised by clients to fund their businesses.
"We're excited about this opportunity to, together, have an even greater impact on our region's economy through this alignment," Sertich added.
For more details about the Northeast Minnesota SBDC or to sign up for services, visit www.nesbdc.org or call 218-726-7298. The Duluth office remains at 11 East Superior Street, Suite 210, in the Technology Village.
---
More about the SBDC National Program
America's Small Business Development Center Network provides assistance to an estimated one million small businesses and aspiring entrepreneurs throughout the United States each year. Stressing client education, the SBDC program is the federal government's largest and most successful management and technical assistance program for small businesses. The program is a partnership program with the U.S. Small Business Administration. America's Small Business Development Center Network, with roughly 1,000 full time service centers, operates with funding from the federal government and matching dollars, both cash and in kind, from the program's many funding partners, including state and local governments, institutions of higher learning, private enterprise and local nonprofit economic development organizations. The Network provides services to more clients annually than all other SBA programs combined.