Business Finance Program News

New loans closed to support northeastern Minnesota businesses and job creation
The Northland Foundation's Business Finance Program has recently closed loans totaling $117,000 to two businesses in the region.
Lake States Evergreen Company, Cohasset

Paladin Properties, LLC d/b/a West Theater, Duluth
To learn more about the Business Finance Program and the tools available, please email Michael Colclough or Alex Bastien, or call the Northland Foundation at (218) 723-4040.
---
Loan client invests in the future with 17,500 square foot building in Hermantown to accommodate business growth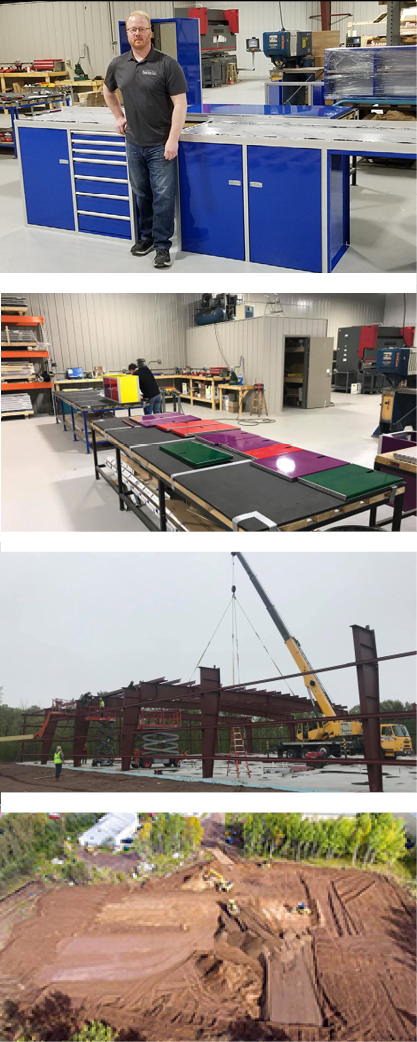 Kelly O'Toole (top) established
Aluminum Cabinet Co. in 2007.
The newly completed building,
which began with site prep in
2019, is a big investment in
Hermantown and the company.
There's a manufacturing and fabrication business newly located in Hermantown, MN, that happens to go way back with the Northland Foundation – all the way back to its beginning. In December, Aluminum Cabinet Company (ACC) officially moved into its clean and bright new facility, along with a tenant business that occupies about one-third of the building. Northland provided a portion of the financing alongside a loan from ACC's bank.
Owner Kelly O'Toole established ACC in 2007. At the time, it was a self-described leap of faith. He was not only the owner but also the sole employee developing his aluminum cabinet fabrication business from the ground up. A significant portion of his initial financing came from the Northland Foundation.
Over the years, the business grew, and eventually ACC outgrew its older 8,500 sq. ft. leased site in Duluth. O'Toole once again made a leap, and Northland was again able to provide a portion of the financing package.
"With the new building, we have been able to set up our manufacturing and powder coating processes to maximize efficiency, with plenty of space to add more equipment and employees in the future," said O'Toole, who currently employees five full-time workers. "Northland Foundation has been a good partner to help get our financing package where it needed to be back in 2007 and again in 2019."
The company custom designs and produces cabinetry, storage, and other aluminum pieces for a wide variety of uses, from residential garage storage to commercial kitchens and labs, racing and recreational trailers, and transport vans. They ship throughout the U.S. and Canada.
"Being able to assist a local entrepreneur to start up and, later, to expand and invest further in their business and the regional economy is at the core of what our loan program is all about," said Michael Colclough, Northland Foundation's Business Finance Director.