New initiative will promote community-based efforts to connect families with services
Community hubs will help young families navigate services with outreach, online tools, and one-on-one assistance
Babies and young children are a joyful yet awesome responsibility. In order to thrive, all young families need support. Families who do not have abundant social and economic opportunities face bigger challenges in providing a strong start in life for their little ones. A helping hand to get connected with services that boost well-being for their children and parents can make all the difference.
An exciting new community-driven initiative is coming to northeastern Minnesota, one that will make it easier for pregnant and parenting families of young children who are experiencing racial, geographic, or economic inequalities, to connect with critical services. It is funded at $300,000 per year for two years by a federal Preschool Development Grant, through Community Resource Hub funding awarded by the Minnesota Department of Human Services.
The Northeastern Minnesota Community Implementation Hub Collaborative will involve working with seven locally based organizations. These partners will implement the collaborative in six counties and four Tribal Nations in northeastern Minnesota.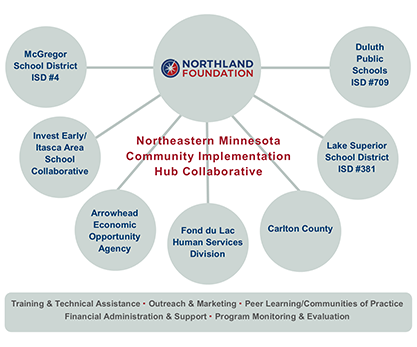 Strong Regional Partners
All seven partners have strong working relationships with Northland and are ready to "hit the ground running". They have extensive experience working with pregnant and parenting families of infants and toddlers, and especially with people experiencing homelessness or other big economic and social challenges.
"A strength of this collaboration will be the coordination of resources among all the partners to ensure wide impact. I am confident that the relationships and practices that grow out of this program will benefit young children and families in our region well beyond the grant period," said Northland Foundation's Vice President and KIDS PLUS Director, Lynn Haglin, who is leading the staff team.
"Each partner brings a wealth of information and connections, creative ideas, and resources to support this effort." —Lynn Haglin, Vice President & KIDS PLUS Director
Outcome Goals
The partners will implement community-designed family navigation systems, working within a regional learning community, to maximize resources and tap strengths of each partner while targeting the root causes of inequities impacting families furthest from opportunities. Goals include:
Increased access to services through the Help Me Connect and Bridge to Benefits web-based navigation, as well as local resources.

Improved relationship-based and culturally appropriate strategies among a broad cross-section of local partners who work with pregnant and parenting families of young children.

Stronger local and regional referral systems that address the multiple intersecting needs of families in a whole-family centered approach.

Greater opportunities for pregnant parents and parents of young children experiencing racial, geographic, and economic inequities to be actively engaged in program and policy decisions.

Enhanced regional network to support young children and families which will help promote information-sharing and effective strategies.
For more information about this initiative, please email Lynn Haglin, Vice President and KIDS PLUS Director.
Federal Funding
This project is made possible using federal funding, 93.434 – ESSA Preschool Development Grants Birth through Five. Its contents are solely the responsibility of the authors and do not necessarily represent the official views of the Office of Child Care, the Administration for Children and Families, or the U.S. Department of Health and Human Services.