Get to know the two newest staff members: LeAnn Littlewolf and Lisa Shrum
During the past few months, we have added the skills and talents of two new people to our staff. Learn more about LeAnn and Lisa, and help us welcome them to their new roles serving people and communities in the region!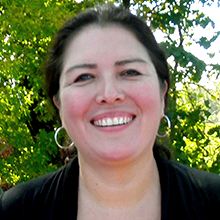 LeAnn Littlewolf, Senior Program Officer


LeAnn Littlewolf began as a Senior Program Officer in mid-December. She is working primarily with the foundation's emerging grassroots program called Maada'ookiing – which means distribution in Ojibwe – focused on engagement and grant support for Indigenous people and communities in northeastern Minnesota.
LeAnn, Maaiin'gan Doodem and Anishinaabe/Gaa-zagaskwaajimekaag Band of Ojibwe, has worked in the nonprofit sector and community advocacy for over 28 years, which includes direct services, development, and executive director roles. She designed and developed a start-up nonprofit organization focused on American Indian youth leadership and assisted with the startup of an initiative focused on Indigenous and rural women's leadership.
"I really love Northern Minnesota and want to see the best for our region. My grandkids are growing up here. I think about all the ways we can have our best lives. For me, my best life means being with my family, prayer, running alongside Lake Superior, putting plants in the ground, and great conversations that generate new ideas." —LeAnn LittlewolfPrior to joining Northland's staff, LeAnn's most recently was focused on building the Indigenous economy as the Economic Development Director at AICHO (American Indian Community Housing Organization). As part of a leadership team at AICHO, she helped develop a Food Sovereignty initiative, new Indigenous social enterprises, and a theory of change based in cultural values and practices. She holds both a Bachelor's and Master's degree in Education, as well as a Master's degree in Advocacy and Political Leadership.
"LeAnn's longtime experience and commitment to building equity and resources among Indigenous people is an excellent match for Maada'ookiing, as we prepare to launch it in another month or two," said Tony Sertich, Northland Foundation's President.
Lisa Shrum, Accounting Clerk


Lisa Shrum is our newest staff member, coming aboard as the Accounting Clerk in early January. Lisa has spent much of her 25-year career in the nonprofit sector in a variety of accounting and financial-related positions, including more than six years with Goodwill/Easter Seals of Minnesota.
In her new role, she will work closely with the Northland Foundation's Chief Financial Officer and other staff to support the accounting function, such as receivables, payables, financial statements, reporting, and more.
"I am happy to be back home in Minnesota and excited to be making my return to the Duluth area soon! I look forward to spending time with my family, wandering the trails, gardening, and spending time listening to the waves roll in off the big lake." —Lisa Shrum
Lisa holds a Bachelor's degree in mathematics from the University of Minnesota Duluth, as well as completing coursework in accounting and finance at Metro State University in St. Paul. Accepting the position at the foundation marks Shrum's return to Minnesota after spending a number of years living in Arizona and Colorado.
"Lisa brings a great analytical and detail-oriented background in the nonprofit world. We really appreciate her willingness to dive into learning about the organization and share her knowledge with us, too, while working remotely during the pandemic. She is a great addition to our team," said Heather Brouse, Chief Financial Officer at the Northland Foundation.