KIDS PLUS programs promote volunteerism and leadership among young people in the region
"The young people who participated in the Youth Leadership Academy and Youth In Philanthropy Program accomplished great things, despite all the challenges in their lives during this time. They should be very proud of their achievements."
—Lynn Haglin, Northland Foundation Vice President and KIDS PLUS Director
COVID-19 turned the world upside down for children and youth. Yet, the young people and adult mentors who participated in the KIDS PLUS Youth Leadership Academy and Youth In Philanthropy Program made it work. They adapted to all-virtual meetings, remained patient through technical glitches, and brought optimism and vision to the tasks at hand.
"These young people and adult mentors showed courageous leadership," said Tony Sertich, President of the Northland Foundation. "Under tough circumstances, they chose to step up in service to others."
Youth In Philanthropy board members awarded 16 grants to children-and-youth led projects

Youth In Philanthropy offers an avenue for young people to gain board and grantmaking experience while also supporting community engagement and volunteerism.
This year, the middle school and high school students on the KIDS PLUS Youth In Philanthropy Board awarded $14,610 through 16 individual grants throughout the region. To be considered for a Youth In Philanthropy grant of up to $1,000, applications must be written by children and youth for projects that will be carried out by children and youth with adult support.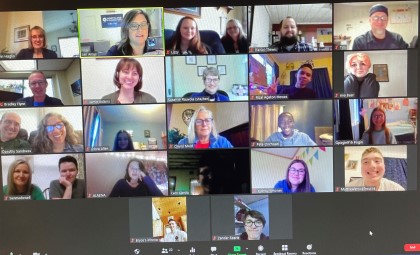 Youth members and adult mentors from northeastern Minnesota connected across the miles, using Zoom to hold board meetings.
The board was made up of 15 students from Cloquet, Duluth, Ely, Hibbing, McGregor, Moose Lake, Superior, and Two Harbors, with guidance from five adult volunteer mentors. Following a Zoom orientation in September, the board held online grant review meetings in October, January, and April and ended their year with a virtual celebration following the April meeting.
Some of the impressive array of funded projects this year included the formation of a youth advisory board in Carlton County; putting on a student art show at Rockridge Academy in Duluth; stocking a Virginia community pantry to improve food access; creating an online internet security class for older adults taught by Cook County youth; providing snowshoes for students and community members to use in the school forest in International Falls; and offering a 3-day camping experience for students in Talmoon.
Since 2000, the dozens of young people who have served on the Youth In Philanthropy board have awarded nearly $450,000 in grants for 531 projects led by children and youth all across northeastern Minnesota.
Youth In Philanthropy Funding Support
The Youth In Philanthropy Program is made possible by generous funding from the Scott and Holly Martin Family Foundation, as well as donations from members of the Northland Foundation's Emeritus Trustee Group.
---
2020 Youth Leadership Academy, cut short by COVID, brings spring service project to fruition in the fall

In mid-March of 2020, Twin Ports Youth Leadership Academy participants were on the verge of starting work on their year-end service project when the pandemic shut everything down. The group of nearly 50 Duluth and Superior ninth graders found their learning experience suddenly at an end.
In June, Northland staff contacted the students to see if they might return to complete the curriculum in the new school year. The response was overwhelmingly positive! All 12 mentors and 32 of the young people, now incoming high school sophomores, were able to – virtually – pick up where they left off.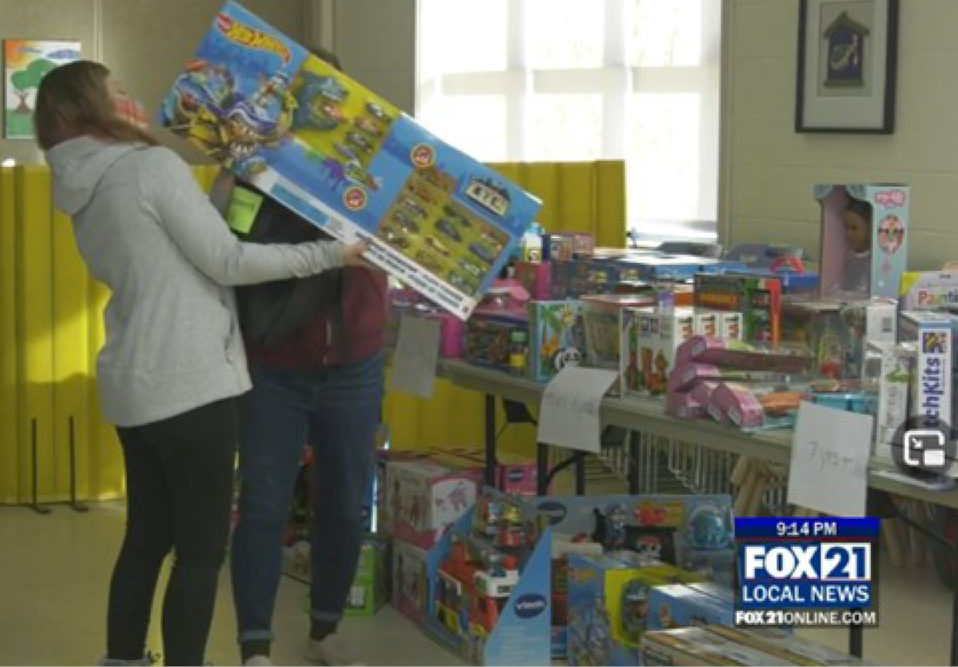 Steve O'Neil Apartments staff helped
coordinate the event for families to enjoy.
This dedicated team of youth and mentors chose to focus their service project to bring joy to the families living in the Steve O'Neil Apartments (SONA), all of whom have experienced homelessness. Academy participants, with the help of community donations, bought weighted blankets and other sensory regulation items, toys, games, books, and more for the 80 children at SONA. The students wrote notes to the families, created door decorations, provided grocery gift cards, and even arranged a catered lunch for families. Fox 21 News did a story on the project, too.
More than 1,300 students and 400 adult volunteer mentors from throughout northeastern Minnesota have experienced this program, honing their capacity to serve their communities now and in the future.
Youth Leadership Funding Support
The 2020 KIDS PLUS Youth Leadership Academy programming and service project were made possible thanks to support from these generous donors.