Business Services News

Recently closed loans support existing businesses and start-ups in northeastern Minnesota

The Northland Foundation closed on nine loans totaling $850,250 during the last quarter. The financing helps support six business expansions and three brand-new enterprises in the region.
Golden Paws Dog Training, LLC, Aurora

RSF Industries, Inc. d/b/a Range Steel Fabricators, Hibbing

Pastika Building, LLC, Ely

Bearaboo Coffee Escape, LLC, Cloquet

El Oasis Del Norte, LLC, Duluth

Ostman Trucking, LLC, Duluth

Dirty Dog Manufacturing, LLC d/b/a Hand Done T-shirts, Ely

Schwartz Jensen Consulting, LLC d/b/a Reinvent Your Hustle, Duluth

Northern Tranquility, LLC d/b/a Northern Tranquility Mental Health Services, Chisholm
To learn more about Business Services and loan tools available, please email our Business Services Director, Michael Colclough.
---
Staff and outside partners play new roles in lending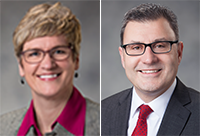 Suzanne Rauvola, Systems Manager,
and Michael Colclough, Business
Services Director
What our Business Services contributes to economic development and financing in the region is consistent yet ever-changing. That sounds contradictory, but being a relevant resource for the past 33 years has always meant evolving with opportunities, challenges, needs, demand, tools and products, and capital.
Today, that includes shifting staff roles and a new relationship with longtime partners. Suzanne Rauvola has been with the foundation for 24 years and has, among diverse duties during that time, worked with the loan program on reporting and Technical Advisory Committee support. She is now working more directly with borrowers and financing partners for loan closings, invoicing, and more.
Michael Colclough, the Northland Foundation's Business Services Director, continues to lead marketing and outreach, connecting with potential borrowers and financing partners and developing loan deals.
Similarly, the Northland Foundation has worked in regional economic development alongside Northspan, a private nonprofit consulting organization, since the beginning. Thanks to a recent contract agreement, Northspan staffers Bob Palmquist and Amanda Vuicich are providing added underwriting capacity to our lending program
"Tapping knowledgeable employees like Suzanne and great colleagues like Northspan has meant doing things a little differently on the back end. But, outfacing, our program can maintain seamless service for borrowers and financing partners," said Tony Sertich, President of the Northland Foundation.