Story of Maada'ookiing
In Indigenous community, the act of giving and sharing is recognized as a mutual act that benefits the entire community. Traditional giveaway ceremonies involve thoughtful preparation, kind intention, and putting positive energy into the gift itself. Giveaways often acknowledge accomplishments, celebrate life, and mark important times significant to the community. In this spirit, Maada'ookiing ("the distribution" in English) has been brought to life.
The Northland Foundation has committed to enhance understanding, build trust, and strengthen relationships with Indigenous communities. The communities within the service area include the Native Nations of Bois Forte Band of Chippewa, Fond du Lac Band of Lake Superior Chippewa, Grand Portage Band of Lake Superior Chippewa, Leech Lake Band of Ojibwe (District I), and Mille Lacs Band of Ojibwe (District II) and Indigenous people in the Minnesota counties of Aitkin, Carlton, Cook, Itasca, Koochiching, Lake, and St. Louis.
Indigenous Designed
In a journey to partner more closely with Native nations and Indigenous community, Northland Foundation embarked with a guiding principle that stands true in all of our work: communities know best. To learn more and deepen our understanding on how we could become stronger partners, we entered into many conversations with Tribal elected leaders and Indigenous leaders in philanthropy, nonprofit, and other sectors. We conducted a study of Northland's own history, the history of philanthropy in relation to Native nations and Indigenous-led nonprofits, and the long-standing inequities in grantmaking.
An Indigenous-led design team was formed, bringing together Indigenous leaders and community members to dialogue about past and emerging issues, community strengths, and best approaches to partnership. Through a group design process, the Native design team helped create the structure, strategies, and guidance for a program they named Maada'ookiing.
Indigenous Led
The Maada'ookiing Board is led by representatives from the region's Tribal Nations and Indigenous community leaders who provide guidance and oversight for the new grassroots grant program that supports creative solutions generated from Indigenous community. Maada'ookiing also has a focus on continued relationship-building and bringing people together around issues important to Indigenous people. We hope to find ways to engage, partner, and generate ideas and resources on the community-identified issues of Indigenous Education and Indigenous Economic Development.
Moving forward with this new program, including the grantmaking to individuals, the foundation staff anticipates that we will have a learning curve as we learn from our relationships with Indigenous community and grow our understanding of what it means to be in true partnership with Native nations. Miigwech!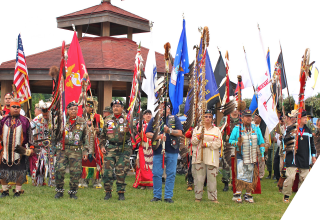 Photographs provided by Ivy Vainio