Spring 2010
IN THIS ISSUE
Kindergarten Transition Grant Opportunity Announced
Thrive Initiative "Lessons Learned" Publication Released
Family, Friend, and Neighbor Care Grant Continuation and Update
Over 400 Attend Child Care Providers Appreciation & Training
A Successful Summit
Fifth annual event gathers nearly 200 professionals from across the region
It was a full house on April 13th at the Duluth Entertainment Convention Center. The Northland Foundation was pleased to welcome nearly 200 school superintendents, K-12 educators and administrators, early care and education providers, school board members, and other community stakeholders to the 2010 Early Childhood Summit. Participants represented 24 school districts, one Reservation, and one charter school.
"There is great value in bringing together such a diversity of individuals to focus our energies on early childhood development and quality learning," stated Lynn Haglin, Northland Foundation Vice President and KIDS PLUS Director.
"We want teaching and administrative staff alike to feel more supported and in sync, to connect early care and education with K-12, and – ultimately – to make the journey from early childhood into elementary school a positive one for young children and their families," Haglin added.
Tom Renier, Northland Foundation President, opened the Summit by sharing the hope that the day would encourage schools and communities to develop stronger relationships with one another, share resources, and seek creative strategies that will result in a strong E-12 system.
Bestselling Author and Brain Development Expert Gives Fascinating Keynote
Keynote speaker Michael Gurian is a bestselling author, counselor, and trainer who has spent over 20 years learning and teaching about brain science, education, and practical parenting. His inspirational presentation mingled cutting-edge research with humor to explain how the brains of boys and girls develop differently, affecting the way each gender thinks, learns, and behaves. Gurian also shared practical tips for parents, educators, and others to better understand and help boys and girls succeed in school and life.
The Northland Foundation provided each team with copies of his book, Strategies for Teaching Boys & Girls at the Elementary Level, a hands-on resource for teachers that draws on the Gurian Institute's research and training with public, private, and independent elementary schools. The workbook includes practical strategies, lessons, and activities that have been field-tested in real classrooms and developed to harness boys' and girls' unique strengths.
Policy Update from Ready 4 K's Todd Otis
Following lunch, the President of Ready 4 K, Todd Otis, provided a brief early care and education policy update. Ready 4 K is Minnesota's lead early education advocacy organization.
"Looking around the room today, it is evident that northeastern Minnesota places a high priority on its youngest citizens," said Otis of the Summit.
Otis presented Minnesota's Future: An Early Education Agenda for the Youngest Minnesotans, a platform of key strategies to move the school preparedness agenda forward. The platform was developed by an alliance of eight Minnesota early childhood organizations. As a former legislator, Otis emphasized that state representatives and senators listen to their constituents, so communicating with gubernatorial, House, and Senate candidates as well as current legislators on a regular basis is strongly encouraged.
Deer River Schools Superintendent and Panel Focus on Relationship-building
Mary Kosak, Program Officer of the Blandin Foundation which provided sponsorship support for the Summit, took the podium next. Kosak stated that it was a privilege to introduce a champion for early care and education, Matt Grose, the Superintendent of Deer River Schools.
Grose spoke about the importance of investing in early care and education, now and in the future. He showed a video illustrating how the world and technology is changing at record speeds, and that our educational system is preparing future graduates for jobs that do not even exist yet. He said that every school district can start small and implement no-cost and low-cost steps to support early care and education. Grose recommended three basic guidelines for early care and education proponents to keep in mind: 1) build relationships (not just networking but frequent conversation); 2) connect with K-12; and, 3) commit to quality for everyone – from teachers to administrators to child care providers in the community.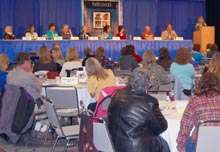 Following Grose's remarks, a multi-sector panel representing early childhood care and education, home visiting programs, kindergarten, mental health, school board, and school administration shared their insights on the role of early childhood in the educational continuum. Communication, outreach, and relationship-building were the primary messages all panelists drove home in their commentary.
"We are deeply grateful to all the Summit participants not only for sharing their enthusiasm and interest during the event but also for their ongoing efforts to work and speak on behalf of young children," said Lynn Haglin.
Thank You to the Early Childhood Summit Sponsors for Their Generous Support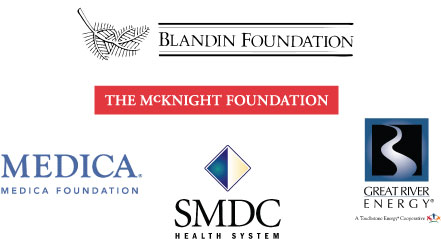 Groundbreaking program for informal child care providers continues
In December 2007, the Northland Foundation and its community partners in Lake County, Carlton County, Hermantown-Proctor, and Duluth received one of six grants in the state to establish a two-year pilot program to promote early literacy, healthy development, and school readiness of young children cared for by "informal" child care providers: family members, friends, and neighbors.
Thanks to the progress made during the pilot phase, Northland Foundation and its community partners were awarded a continuation grant from the Minnesota Department of Human Services last June to continue this groundbreaking work.
The FFN Program has been reaching out to these care providers with Play and Learn sessions held at each of the four partner sites to share information on an array of early childhood development topics. In addition, home visits from early education professionals offer one-on-one training to interested FFN caregivers.
For more information about the Northland FFN Alliance, please contact the Northland Foundation or one of the four program partner sites listed to the left.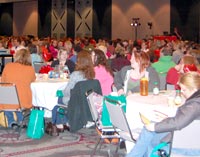 A crowd of more than 400 area child care providers packed the DECC.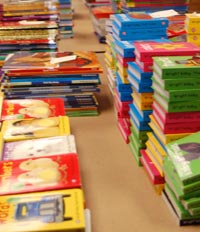 Event Sponsors
SMDC Health System
•
Medica Foundation
•
The McKnight Foundation
•
Minnesota Department of Human Services
•
Northland Foundation
400 Child Care Providers from Across the Region Experience a Day of Learning, Networking, and Appreciation
On February 13th, more than 400 child care providers from throughout the region gathered in Duluth for the Northland Foundation's third annual Child Care Providers' Appreciation and Training Seminar. Anyone in the seven-county Arrowhead Region who cares for children ages five and younger was invited, whether they represent a home-based child care setting, child care center, early childhood program, or regularly take care of children belonging to a family member, friend, or neighbor.
The morning began with a keynote address by Cindy Croft, M.A. Ed, and Director of the Center for Inclusive Child Care at Concordia University in St. Paul. Croft is the author of several books including The Six Keys: Strategies for Promoting Children's Mental Health in Early Childhood Programs. She presented an overview of the six key strategies to support the healthy social and emotional development of young children which is, she said, the key to learning readiness. She shared practical strategies that child care providers and early childhood educators can take, including the following.
Give children phrases for entering play and model actions when needed.

Use reading groups that help provide communication skills between peers.

Read specific books about friends to young children.

Give children tangible tools to learn to get along with one another.
Croft stated that relationships are the key. She paraphrased Urie Bronfenbrenner, saying, "all children need someone in their lives who is crazy about them."
Following lunch, Sandy Taenzer, MA, Early Childhood Consultant presented a session on Building Social Emotional Skills Through Stories. Taenzer, a longtime early care educator and program director shared her enthusiasm for storytelling. She said that reading aloud to young children is the single most important activity for building literacy understanding, and skills essential for reading success. Taenzer demonstrated the power of storytelling and the importance of using props such as puppets or cut-outs.
Participants left the daylong session with renewed energy and tools to use in their important work with young children. Along with the powerful information shared by the speakers, each participant received complimentary children's books and a tote bag as tokens of appreciation.
Thanks to the generous donations of the following local and regional businesses and nonprofit organizations, nearly 100 prizes were given away to seminar participants.
Super One Foods • Green Mill • ARCO Coffee • Suites Hotel at Waterfront Plaza • United Way of Greater Duluth • Advantage Emblem • Minnesota Humanities Center • Duluth Area YMCA • Allison Hallmark • Explorations • Fond du Lac Tribal & Community College • WITC • Fitger's Inn • Coughlan Companies, Inc. • Holiday Inn & Suites Downtown Duluth Waterfront • Texas Roadhouse • Radisson Hotel • Timber Lodge Steakhouse • Canal Park Dairy Queen • University Barbers Styling Salon • Sheraton Hotel • Canal Park Lodge • Grandma's Restaurant • Lake Superior Zoo • Child Care Resource & Referral • Valentini's Vicino Lago • Carlton County Prenatal/Early Childhood Coalition • Itasca Area Early Childhood Coalition • Quad Cities Area Early Childhood Coalition • Northland Foundation
Rural Infant and Early Childhood Mental Health Initiative Launched with Support from the Medica Foundation
The Northland Foundation recently received a $25,000 grant from the Medica Foundation to implement the Rural Infant and Early Childhood Mental Health Initiative with the goal of

increasing community capacity in northeastern Minnesota to promote the healthy social and emotional development of young children, ages 0-5. Lessons learned from the implementation of the Minnesota Thrive Initiative are helping guide this project.
As part of the initiative, the Northland Foundation is providing eight scholarships to early care and education providers to participate in a six week train-the-trainer program on The Six Keys: Strategies for Promoting Children's Mental Health in Early Childhood Programs. After completing the course, each recipient will offer workshops to share the knowledge and skills they have learned with others in their communities who are working with young children.
The 12 Early Childhood Coalitions in the region will also undertake a service mapping project to develop local infant and early childhood mental health resource guides. These guides will help community members connect with infant and early childhood programs and services.
"Medica Foundation's support will help continue the forward momentum and build upon infant and early childhood mental health efforts across our region," stated Lynn Haglin, Vice President/KIDS PLUS Director.